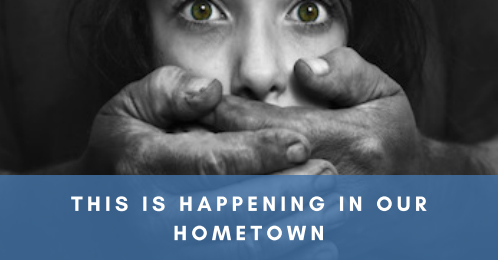 The issue of sex trafficking is getting more attention thanks to the first day dedicated to bringing awareness to the issue across Ontario.
Haliburton-Kawartha Lakes-Brock MPP Laurie Scott hosted almost 200 members of the public at an open forum to mark the inaugural Human Trafficking Awareness Day in Ontario on Feb. 22.
Now Scott is teaming up with Chatham-Kent-Essex MPP Rick Nicholls to bring an awareness forum to Chatham March 15 at 7 p.m. at the John Bradley Convention Centre.
"Human Sex Trafficking is one of the fastest-growing crimes in Canada and raising public awareness is an urgent priority. Most people I talk to have no idea that this is happening in our communities – big and small – so we all need to get the word out to better inform parents, grandparents and children themselves. That is why events like this are important," Scott said. "We all need to do our part to raise awareness of a crime that targets children who are on average only 14 years old."
Scott was joined by an expert panel that included police, victim service agencies, a representative of the anti-money laundering financial intelligence unit at the Bank of Montreal and Karly, a survivor and community outreach worker for the Gender-Based Violence Program at East Metro Youth Services.
Karly, a victim who was rescued with the help of a police officer she developed a trust relationship with, was very impactful, according to Scott, when she told her story about how the traffickers manipulate victims.
"People stood up and clapped because she was able to explain the manipulation and why she couldn't just leave, and nobody can explain it like a survivor," Scott said in a phone interview.
Ontario has a horrifying and rapidly-growing human sex trafficking problem, according to statistics: More than 93 per cent of human sex trafficking victims in Canada are Canadian-born, 60 per cent of victims in Canada are trafficked right here in Ontario; and Ontario serves as a major trafficking hub, with the proximity of cities along Highway 401 and other highway corridors creating easy access and aiding secrecy and invisibility.
Scott said a victim can be swept up into the criminal underworld and disappear in less than 24 hours. The average age of a trafficking victim is 14, but some have been as young as 11. Once they fall into this life, victims face horrific conditions that make escape very difficult.
"The majority of the victims are under 16 years of age. It very much is a crime of child abuse and child exploitation," the MPP noted.
The Saving the Girl Next Door Act tabled in the Legislature two years ago by Scott was the culmination of the work of advocates, police officers, service providers and experts. The government took it as its own Bill 96 and implemented the first Human Trafficking Awareness Day.
"There is great work being done across the province by steadfast advocates fighting against human sex trafficking. As information is shared and groups come together to co-ordinate their efforts, we develop a better understanding about how serious and widespread this horrific crime really is. What is clear is that more resources are desperately needed to save lives," Scott said.
There is a lot more that needs to done with implementing Bill 96, Scott said, including protection orders, giving victims the right to sue their traffickers, and Christopher's Law, a sex offender registry for people convicted of human trafficking.
"The government has done some other things which I am grateful for, but it needs to be a more of a co-ordinated action so that all police are trained, crown attorneys who are brought in specifically for human trafficking cases, and I brought in a bill for mandatory training of judges that has been passed but not enacted. It needs to be mandatory," the MPP said.
Nicholls said he is happy to help raise awareness of this issue with Scott.
"Human trafficking is a terrible crime that is often undetected and can destroy families and communities. I hope that this meeting will draw attention to this serious issue, so that we can all come together to help put a stop to it. Highway 401 is a major corridor of transportation for this industry and it is important for parents, teachers, clergy, nurses, etc. to know how these predators are attempting to lure our children and adolescents."
The forum will run March 15 at 7 p.m. at the John Bradley Convention Centre. Everyone is welcome.