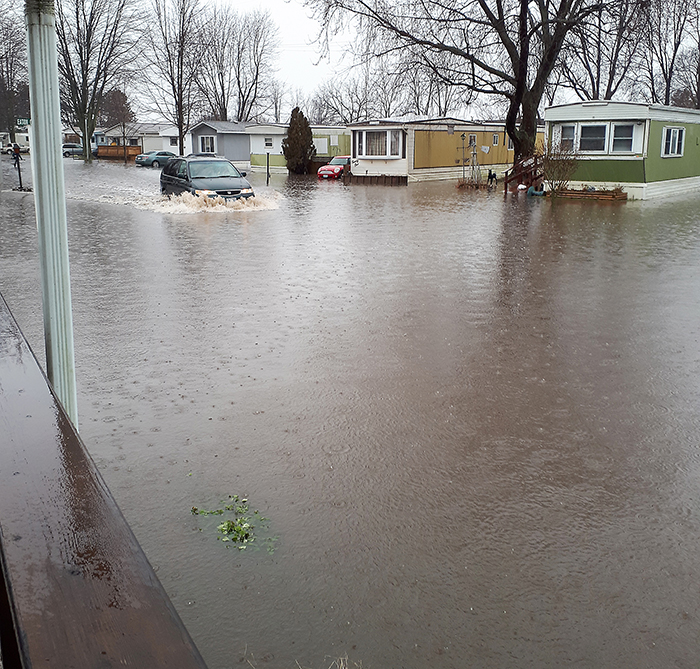 Before the Thames River overflowed its banks last week, Chatham had another serious flooding incident in a section of town that's about as far removed from the Thames as you can get.
St. Clair Estates.
Randy Coote, chairman of the St. Clair Estates Tenants Association, said the private mobile home park floods all too often.
"The last really big one was in November of 2011," he said. "This time around, we had 10-12 inches of water sitting over the streets and in people's yards."
It was so bad that the wake from passing vehicles was damaging the skirting around some of the homes, Coote's wife Brenda said.
He agreed.
"We were getting waves here on Regency Street. The wake from cars was hitting the house. People's skirting was being ripped off from the waves from some of these vehicles," he said.
He added this year's flood had several contributing factors, notably the heavy rain and the snow load that those rains washed away.
"Part of the problem is that our sewers here haven't been cleaned properly after the snowstorms. The debris contributed to our flooding," he said.
The flooding was such a problem for the Cootes that they had to carry their dog about 100 feet through the water to find solid enough ground for the animal to answer the call of nature.
Coote said the tenants' association has to sit down with the park's owners to discuss what needs to be done to prevent the flooding from recurring.
"The situation is quite an undertaking to go through and see what's needed," he said. "There have been flooding problems here dating back to the 1980s."
Coote said the all-too regular flooding has strained the patience of many a St. Clair Estates resident.
"Residents are very frustrated. We try our best to get the issues presented to the owners. It's a matter of working together," he said.
The frustration also comes from the fact the streets in the park aren't assumed by the municipality.
"There are times we feel we aren't part of Chatham-Kent. It's private property. It can be frustrating when you're trying to get help," Coote said.
The water did dissipate quickly, he said, as within 48 hours the roads were back to normal.
"But it was a long two days."
Comments
comments