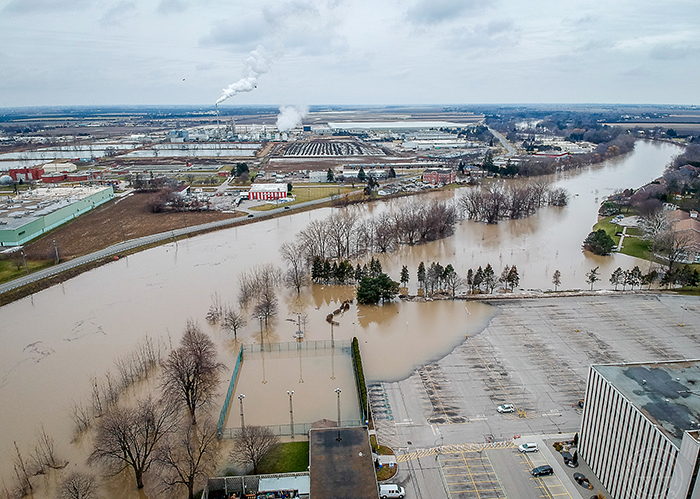 Kudos to all the support personnel who were on hand over the weekend and helped out with homes and businesses suffering due to the floodwaters through Chatham-Kent.
Yes, the flooding in Thamesville wasn't as bad as feared, and that most certainly was a good thing. People still had their hydro and natural gas shut off as a precaution. Upwards of 400 customers had their gas shut off in Thamesville, and a handful of Entegrus customers suffered a similar fate in Chatham.
Prevention trumps convenience when it comes to a natural disaster, and it was heartening to see so many Entegrus, Union Gas and Hydro One crews out and about, along with fire, police, and Public Works personnel.
The Thames River overflowed its banks, reaching a high-water peak in Thamesville early Saturday morning, and it later peaked in Chatham that night, rising about 17 feet above normal, and flooding several streets through Chatham's core.
Through it all, emergency personnel and the utility staff were close by, monitoring the situation and lending a hand when needed.
That included the evacuation of a number of folks from their homes in Chatham by boat, as the rising water had left them trapped.
The municipality also deserves thanks for making the Bradley Centre available for evacuees. Only two families made use of the facility, but had the water reached higher levels in Thamesville, things would have been much different.
What did we learn from this flood?
First off, the flood diversion channels in Chatham and north of Wallaceburg saved many a home and business from potential flooding. The Sydenham River rose quickly earlier in the week, but when officials closed the McKeough dam to divert water into the McKeough diversion channel, the problem was solved.
In Chatham, the early high water in creeks was quickly handled by funneling water in to the diversion channel off McGregor Creek.
What more can be done? Good question. We're honestly not sure what provincial municipal affairs minister Bill Mauro means when he said Monday during a visit here that more must be done to mitigate flooding.
If it's worth exploring new options, we should be all ears.
Comments
comments