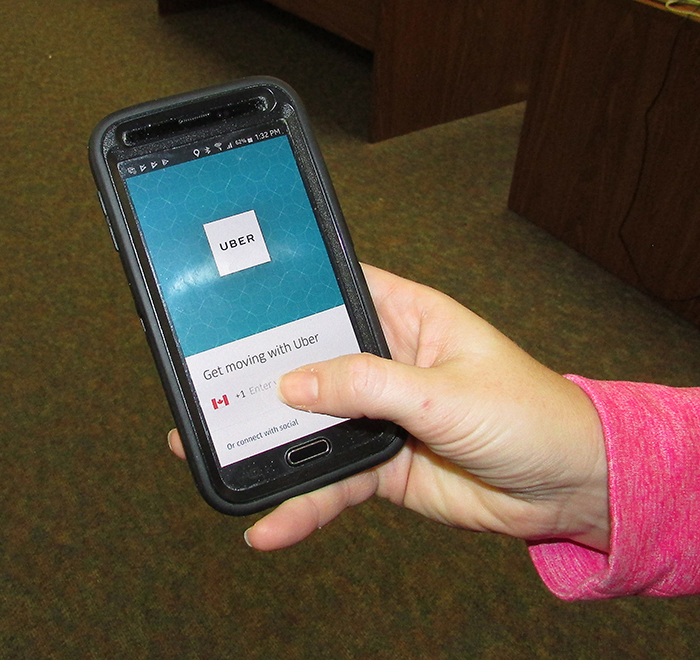 A local man is leading the charge to see Uber come to Chatham-Kent.
Florin Marksteiner sees the need for the alternative transportation mode – where people communicate via a smart phone app to hire a private driver – after Chatham Radio Cabs went out of business at the start of the year.
Uber has flourished around the world. Drivers and passengers have their own phone apps, one to indicate availability as a driver and to receive transportation requests, and the other to request a ride.
Payment is done via credit card over the app, so no funds change hands in the vehicle.
Marksteiner said alternate transportation options are needed here, as there aren't enough taxis.
"How many cabs do we have here for 100,000 people? And there is the distance that people have to travel – Chatham, Wallaceburg, Blenheim," he said.
Marksteiner said he's not an employee of Uber, but rather a citizen who wants to see the needs of the public met.
On top of that, Uber drivers, who are private citizens, can make some money.
"If we had Uber drivers here, they're going to make an income. Is that bad?"
Uber drivers, however, aren't licensed the way cab drivers are. They use their own vehicle, which has to be less than 10 years old and have four doors.
The company puts each driver through a background check, according to the company website.
Marksteiner said it's unfair to compare Uber to traditional cab companies.
"You cannot compare apples to pears. Uber is not a taxi company; it's a local initiative. It's community driving community," he said.
Users input their location and desired destination into the smart phone app and they are soon told how much it will cost, how far away their driver is located, and what vehicle he or she is driving.
"There's no dispatcher. It's everywhere. It's all done on a smart phone app," Marksteiner said.
The Uber issue came before Chatham-Kent council in late October. A committee is being formed, filled out by people from the taxi industry, the general public, and municipal administration, to discuss the taxi industry in general, as well as the use of private transportation companies such as Uber as part of the Chatham-Kent transit system. The committee will eventually return to council to make recommendations to update the taxi bylaw.
Marksteiner said he believes Uber is the future of accessible transportation for the general public. He encouraged council to not hold it back locally to protect existing cab companies.
"The taxi business model doesn't sustain itself. It's old," he said. "You can't be in the way of progress. But at the same time, just because a new guy comes in, that doesn't mean the others are going to go away."
Chatham Coun. Darrin Canniff, whose brother Paul runs Courtesy Cab, sees the reality that Uber, already in more than 600 cities around the world, will one day come to Chatham-Kent.
"Whether you want it or not, it's coming," he said.
Comments
comments