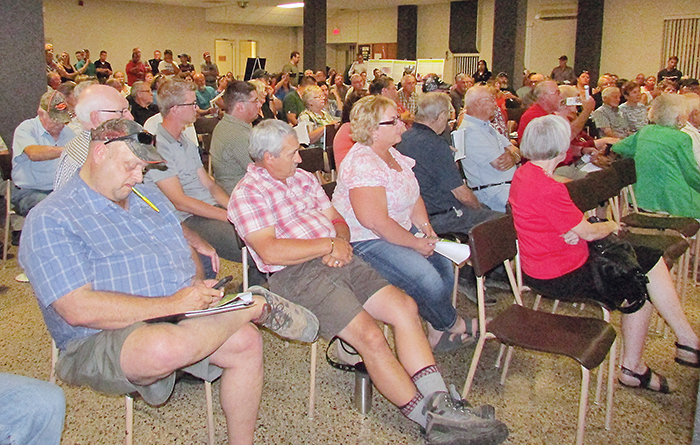 A packed public meeting organized by North Kent 1 wind farm owners Pattern Energy and Samsung on Thursday degraded into shouting after Dr. David Colby, medical officer of health for Chatham-Kent, said he stands by his assertion that the North Kent well water is safe to drink.
Meant to be a meeting to provide technical and scientific information to area residents about the turbine construction process and its effect on local wells, several North Kent residents upset about the state of their dirty well water demanded answers from the Ministry of Environment and Colby about the safety of the water they were drinking.
When asked a question by Water Wells First member Pete Hensall about the sediment and why it wasn't being tested for toxic heavy metals known to be found in Kettle Point black shale, Colby said he needed to explain to people the difference between a suspension and a solution.
"A dissolved substance never settles out because it is in that solution. Anything that is dissolved in water has the potential to be absorbed in the body. Those are things that can cause problems. A suspension is when you throw a handful of sand or other particulates into a water sample and a suspension will always settle out. Anything in a suspension is not absorbed by the body and passes right through," Colby told the crowd.
WWF spokesperson Kevin Jakubec however, said it is the particles of shale smaller than one micron that can't be filtered out of the water that concerns people; the particles that can't be seen with the naked eye and are known to contain arsenic, mercury, and uranium. He called for a health assessment risk to be done by Colby.
"Nobody wants to drink dirty water that looks like chocolate milk; I get that. But if you filter that crud out of there, is there any evidence there is an increased solution of toxins in that water that could pose a health problem, and the answer is no," Colby said, noting no evidence has come across his desk. "If you're more interested in your convictions than the facts that I'm trying to give you, we're not going to get an agreement on this issue."
Colby said he has a well and had sediment problems, and ended up drilling a new well. When asked how many turbines are nearby, he said he could count 47.
He maintained there was no health hazard from the sediment.
Jakubec said he has testimony from Dr. William Sawyer as an expert witness, who said, in his opinion, there was a health risk.
"People are worried about their health and they are worried about their property valuation and people are worried about water. We have to protect the water security of Chatham-Kent," Jakubec said at the meeting.
Dover resident Marc St. Pierre approached Colby with a jar of his raw well water, which contains black sediment, and asked him to look at it.
"We know that 78 per cent of the particles are invisible and non-filterable. Are you saying the shit they put in my well and that is going into my body is safe?" he asked Colby.
Colby said there was no reason to test the sediment as "it doesn't matter what is in the sediment… it won't be absorbed into the body."
"That's standing public health practice. It's dissolved substances that contain toxins that are absorbed that we are concerned about. Checking sand for what it's trace compositions are is not something we need to do. It's not accepted public health practice," Colby replied.
Mike Maroney, attending the meeting on behalf of the Ministry of the Environment and Climate Change, said the ministry has heard and understands the community's concerns, and are aware there is an underground aquifer that flows over the Kettle Point shale rock formation. As well, he said there might be that shale in water wells that contains heavy metals.
"I can tell you we are looking at turbidity. We are not looking at specific particles, we are looking at turbidity because the concern is that wind turbine construction and operation could be disturbing the sediment and the vibrations causing turbidity. That's why turbidity is one the critical parametres to be analyzed," Moroney told a North Kent resident.
The 12 residents that have now complained about well water problems are waiting for the reports on the testing done by NKW through AECOM to be analyzed by the MOECC.
Mark Smith, who was also at the meeting on behalf of the ministry, said there is no exact timeline on when the assessment would be done and they are adding more resources to look at all the data collected.
Some residents expressed concern that the three months it may take for the assessment to be done will be useless as by that time, as construction of the turbines will be well underway.
North Kent Wind, Pattern Energy and Samsung officials have said their scientific evidence, pre-project sample testing and vibration data speaks for itself that pile-driving did not and will not cause sediment contamination of the area wells, and they have no intention of stopping construction while the ministry assesses the company's reports.
One farmer, who didn't give his name, said he allowed a turbine to be built on his property, and it "makes him sick to see what is going on."
"All I know is, I know a certain individual quite closely and she is in a hell of a mess through no fault of her own and you don't realize the heartache this is causing," the farmer said. "Nobody should have to put up with this dirty shitting water coming because of no fault of their own."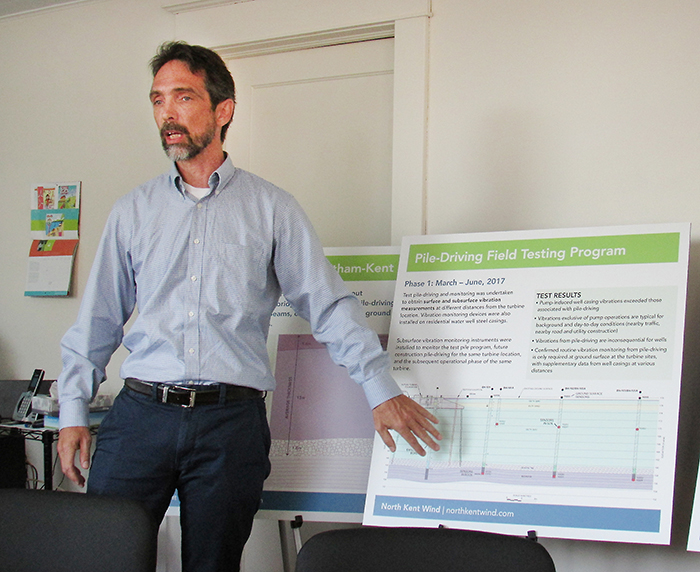 Comments
comments