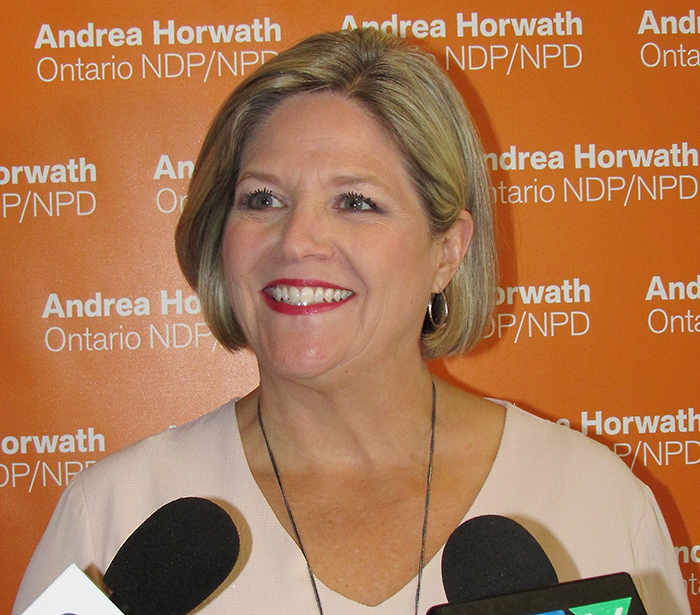 Ontario NDP Leader Andrea Horwath met with her Southwestern Ontario caucus in Chatham last week, going over a platform that she believes will help her and her colleagues form government after the next election.
Speaking at a luncheon with caucus members and community leaders, Horwath outlined her party's plan to bring Ontario Hydro back to public ownership and lower energy costs by 30 per cent, bring forward a prescription drug plan for all Ontarians, and invest in government services and infrastructure. She also led a discussion on shared priorities and the issues that are most important to families and businesses in the region.
And to pay for it all, Horwath said more thoughtful spending is needed, unlike the current Liberal government.
"The Liberal government has spent a lot of public money on their own interests and the interest of the Liberal party, and that money needs to be diverted to the needs of Ontarians. So whether we're talking about $1 billion to cancel gas plans or you're talking about another billion dollars on e-health, or $8 billion improperly spent infrastructure money; that money needs to be diverted to meeting the needs of families," Horwath said after her luncheon speech. "It's all about priorities, and for too long we've seen Kathleen Wynne put herself and her party at the top of the list."
Horwath said she was in southwestern Ontario to listen to her caucus and the community leaders in the area and work with them to "give people what they deserve and have families have a better life here in southwestern Ontario."
When asked about the potential for her party in the area, Horwath was very clear on how she sees the next election.
"I think the NDP will form government next year. People are already talking about their disappointment with Kathleen Wynne, they aren't happy with the Liberals and they have a look around at the Conservatives and nobody knows what their plans are," Horwath said. "This next election won't just be about the disappointment with Kathleen Wynne, but what do people want to see; what comes next for Ontario and New Democrats have a lot of great ideas and a lot of focus on families. That's what we believe government is all about."