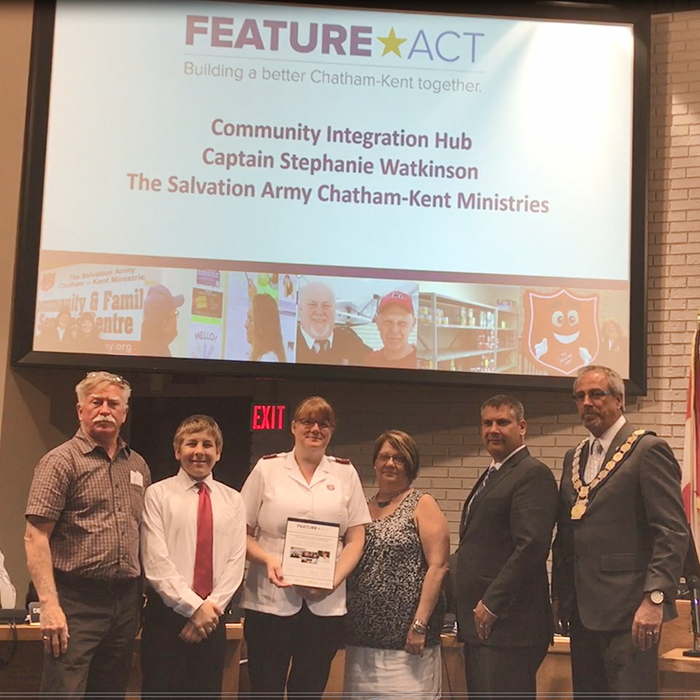 Captain Stephanie Watkinson, Community Ministry Director and Assistant Corps Officer of The Salvation Army and the visionary behind the Salvation Army Community Integration Hub, received Feature Act Recognition on June 26 as part of the CK Plan 2035 Progress Update.
The recognition came just two days before Watkinson moved to Barrie in a Salvation Army transfer.
In 2014, the Salvation Army had outgrown its space and moved to 19 Raleigh St. in Chatham where Watkinson ensured that it could be a place of integration for people.
This location includes a food bank, staff from Employment and Social Services, youth programming with a homework room, budgeting, job preparation and life skills. It also offers food skills with the Food Policy Council, fresh produce through the CK Gleaning program, housing and homelessness supports.
In addition to this location, the Salvation Army provides resources to Wallaceburg, Ridgetown and Blenheim locations.
Co-Chairs of the Chatham-Kent Community Leaders' Cabinet, Mayor Randy Hope and Stephen Doig, presented a certificate of recognition and expressed their appreciation for Watkinson's efforts, and highlighted that when services are based on how best to meet people's needs, it shows community collaboration. They shared that Watkinson and her family have left a lasting legacy of community champions.
The Chatham-Kent Chamber of Commerce Board Chair Chris June and Wallaceburg & District Chamber of Commerce Chair Karen Debergh, praised actions taken by Watkinson to create a hub-type concept. The idea of serving people's physical, emotional and social needs while enhancing learning and workforce opportunities has proven to be a success. June and Debergh commended Captain Stephanie for building a better Chatham-Kent and increasing people's quality of life.
Comments
comments