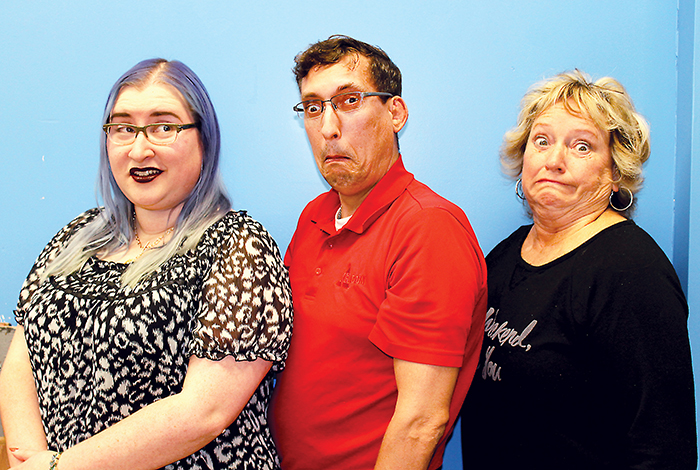 Theatre Kent is presenting its final show of the current season from April 27 to 29 and May 5 and 6 at 7:30 p.m. in Studio One of the Chatham Cultural Centre (CCC).
An Evening Of Comedy is a collection of three one-act plays, each with its own director and cast, and each serving up its own brand of humour.
Producer Tim Luimes said the group is excited about the show as it provides "something for everybody," and is being presented in the intimate studio setting.
Complimentary refreshments will be provided, along with a cash bar.
Luimes said the group saw great success with this format earlier this year when the group presented the drama Proof.
The three shows that make up An Evening Of Comedy are:
This Is A Play, directed by Jan Walker-Holt and featuring Karen Robinet, Bayleigh Fraser, Erik Shaw and Luimes.
Holt called the show "a play within a play, about lettuce," and added it is "a director's – and actor's – dream."
Something Rotten In Denmark is being directed by Eric Bristow with a cast made up of Steven Reinhardus, Bill Tye, Linda Schinkel, Jen McMonnies, Melissa Bristow and Tony Erdelyi.
Bristow said he and the cast have been enjoying the rehearsal process and are looking forward to putting the show in front of an audience.
Much Ado About Nothing (Abridged Version) is directed by Erin Kys and stars Mark Stacey, Christine Folan, Nathan Johnson, Robyn Brady, Mindy Bowls, Tori Valentine, Kristal Hooyer, Sarah Charbonneau, Lee-Ann MacNeil, Alexander Brooks, Zoë Burbank, Darla Ouellette and Christy Obalek.
Kys said the show is the tale of, "two pairs of lovers with very different takes on romance."
She said this is one of William Shakespeare's most popular comedies abridged to one act that contains love, jealousy, revenge, deceit and "a lot of sass!"
Kys added that, "as a first time director, I could not have asked for a better cast.
"We've all been working hard, but also having a lot of fun with this show. I can't wait for everyone to see what an amazing job they do bringing this modern take to life."
Tickets for An Evening of Comedy are available through the CCC box office, online at CKtickets.com or by calling the box office at 519-354-8338. Tickets are $20.25 for adults and $18.25 for students and seniors.
A limited number of tickets may be available on show nights when the doors open at 7 p.m., but Luimes recommends patrons purchase their tickets in advance to avoid disappointment.
"We did see some sold out shows during our last performance in the studio," he said.