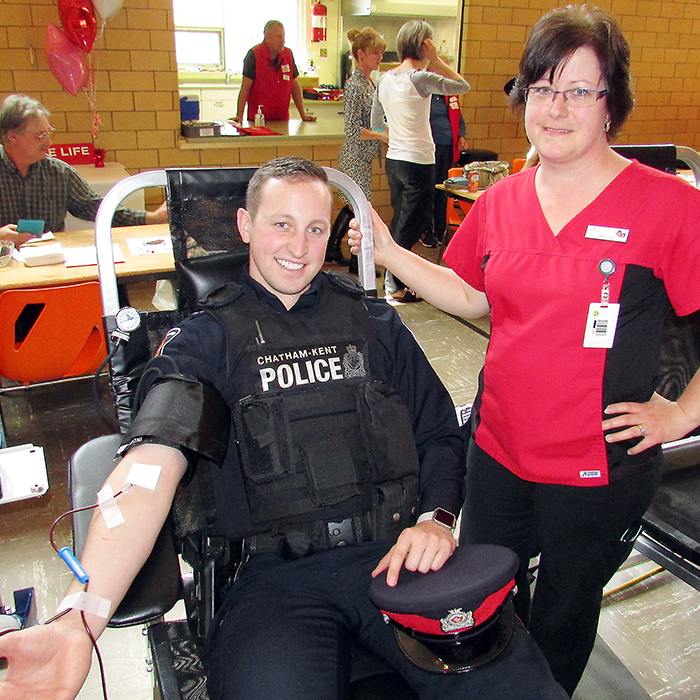 Forty down and another 140 to go for Doug Cowell.
That's his target in terms of times giving blood. It's also the number of units of blood used on his daughter Bailey, who received a heart transplant at just nine days old. Sadly, she passed away only weeks later.
Doug and his wife Renee, Chatham-Kent police officers, are the driving forces behind the Uniforms Unite to Save Lives blood donor campaign. And April 12 marked the seventh year of the campaign, but it also marked what would have been Bailey's 16th birthday.
"Her birthday is always around this time," Renee said of the annual Uniforms Unite event at the Sprit and Life Centre on Wellington Street. "But it is bittersweet that it actually falls on this day this year."
The Cowells were impressed with the support shown by the personnel of the various emergency services groups in Chatham-Kent.
"It's encouraging to see everybody here rolling up their sleeves helping to save lives," Renee said. "It's nice to see the community, our colleagues and coworkers out in such numbers."
The goal for the day was 140 donations, again the equivalent to the number of units of blood and blood products Bailey needed during her stay at Sick Kids Hospital in Toronto.