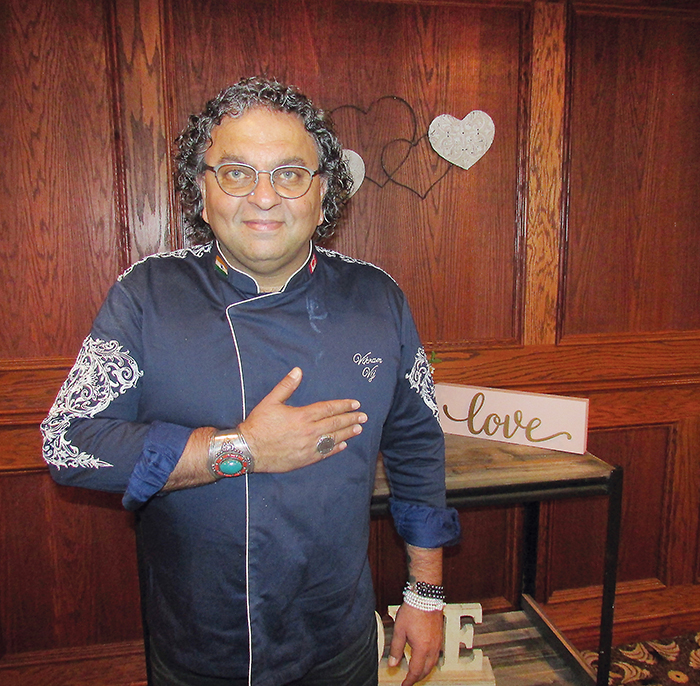 Some of Chatham's finest chefs showcased their culinary talents Thursday at the CKHA 15th annual fundraiser, Parade of Chefs, with featured guest Chef Vikram Vij.
Vij, known as a television personality on Dragon's Den, a cookbook author and restaurateur in Vancouver, said he was very humbled to be asked to be part of the fundraiser.
"When I was asked to be part of such an important cause, I was so touched and said, 'yes' right away," Vij explained at Club Lentinas before the event. "It's important to have the machines a hospital needs in small communities so you don't have to travel so far."
Born in India, Vij moved to Canada in 1989 after training in Austria, and said while taking the train from Toronto to Chatham, it made him feel nostalgic for the times he took the train in India, going by small homes and farms with children playing outside, wondering about his future.
"I am a proponent and lover of small communities," Vij said, noting that he was impressed by the warm welcome from the people he met so far in Chatham.
The chef said he was looking forward to eating the food the local chefs were preparing for him, and seeing what creative twist they would give to honour his Indian heritage. Vij also was happy to just observe and mingle with people at the event.
"I don't want to be known as a celebrity. I am humbled and honoured that people want to spend money to meet and talk to me," he said, when asked about his presence helping sell out the event. "There is no difference between me and the other chefs; we all have the same colour blood."
Events like Parade of Chefs that help organizations such as the CKHA raise funds for important causes need support and bring communities together, Vij noted.
"Cuisine and music will solve the problems of the world. When you break bread, you break down barriers," the chef said.
Different this year for the chefs participating in the event, was that the five-course meal was a collaborative effort, instead of each chef being responsible for a course.
Chef Angie from Willow Ridge Golf and Country Club said she enjoys being involved in the Parade of Chefs, her fourth year at the event.
"It's for a good cause. I have told Barb many times I would do anything for the hospital," Chef Angie said. "It's a lot of fun to get together and work together. We don't get to see each other very often. It took a lot of creativity to come up with the concept and work with the different spices."
All of the proceeds of the event, which also included chefs from Eat What's Good, Harvest Moon Catering, Mamma Maria's, T-Bones, The Chilled Cork and Frendz, will go the CKHA Diagnostic Imaging Equipment Renewal Campaign.
Local wineries Aleksander Estate, Early Acres Estate, Cooper's Hawk Vineyard and Pelee Island were on hand, as well as Bayside Brewing and Sons of Kent Brewing.