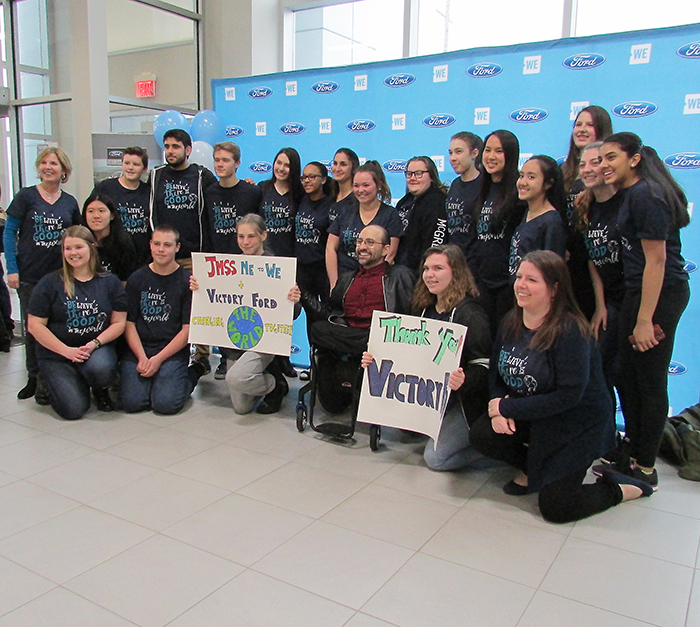 The supportive spirit of Chatham-Kent, and the volunteer effort of local students, earned recognition from Ford of Canada and a national volunteer organization recently.
WE Scare Hunger – the annual Halloween night food drive put on by Ursuline College Chatham, Chatham-Kent Secondary School, John McGregor Secondary School, St. Ursula, Our Lady of Fatima and St. Anne elementary schools – pulled in 25,000 pounds of food in one night in 2016. It took 25 Ford F150 pickup trips – supplied by Victory Ford Lincoln of Chatham – to transport the food to local food banks.
>
Ford of Canada's president, Mark Buzzell, stopped by the dealership March 30 to mark the feat. More than 100 local student volunteers from the schools were invited to take part. The students are members of the Me to WE programs at their respective schools and were part of the WE Scare Hunger effort.
Also on hand was Spencer West, WE ambassador. WE is a global social justice organization empowered by youth.
West praised Ford's involvement in the WE programs.
"Ford got involved because they wanted to give back to support kids in their communities," he said.
Brenda Leclair of Outreach For Hunger, said the food brought in by the students was greatly appreciated. It filled their operation to the point she had boxes of food in her office for a time.
"The food the kids brought in last November, we're still going through it," she said. "It's just amazing."
Also appreciative of the students' efforts was Tim Witt, vice-president of sales for Ford of Canada.
"It's great for the community and great to see the community so involved," he said. "No one did a better job than these kids. You can see the passion here."
Witt added Ford couldn't be "more proud to be associated with the WE organization."
In all, nearly 270 Ford dealerships in Canada took part ferrying the collected food – more than 280,000 pounds of it – for the WE Scare Hunger campaign.