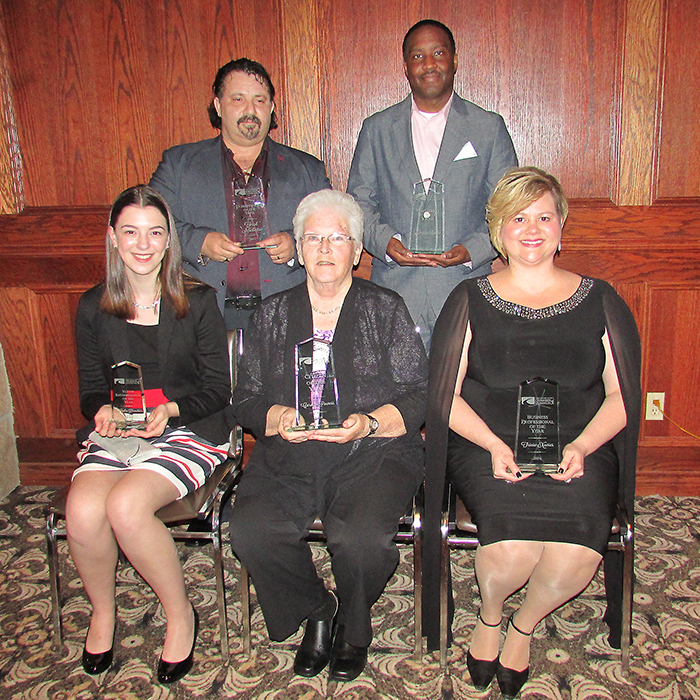 The Chatham-Kent Chamber of Commerce recently honoured key business leaders, perhaps a future business leader, and a woman who has spent much of her life volunteering.
Carolyn Powers was recognized as citizen of the year, while Fred Naclerio earned entrepreneur of the year, Tricia Xavier business professional of the year, Natalie Devolder youth entrepreneur of the year, and Enviroshake industry of the year at the annual Business Excellence Awards March 30.
>
Christopher June, chair of the chamber, credited the award winners for being excellent leaders.
"What you do in the community – contributing to the economy of Chatham-Kent – is such a fantastic thing," he said. "We're on a bit of an upswing locally."
Chatham-Kent Mayor Randy Hope agreed.
"One of the biggest problems we have is I have no empty factories in Chatham-Kent," he joked. "What you do makes it a little easier for me to market Chatham-Kent."
Hope added the award winners have put in a great deal of hard work and dedication to their community.
Powers, no stranger to helping others, said she was surprised to learn of winning citizen of the year. This despite the fact her volunteer work keeps her very busy and the fact friends had told her they were planning on nominating her.
Scouts Canada has had the good fortune of having Powers as a volunteer for the past 56 years, the past 42 of which were spent here in Chatham-Kent.
"I started in St. Catharines and moved up here in 1975," Powers said.
She's also heavily involved in Chatham Tae Kwon Do, Thamesville Sertoma and the Drug Education Alliance.
As if that isn't enough, Powers is also on the board of Friends of Rondeau, and is a member of the Canada Day committee for Chatham.
"You name it; I'm there. I'm never at home," she said. "When my husband passed away in 2003, I said no grass was going to grow under my feet while I was sitting at home."
Naclerio, whose companies sell real estate, manage property, do construction work and more, considered it an honour to win entrepreneur of the year. He said he loves Chatham-Kent, and is dedicated to supporting this community.
About a decade ago, with most of the construction work sending his crews to the Toronto area, Naclerio said he considered shifting his headquarters to the Greater Toronto Area, but quickly dismissed the idea.
"This is where I want to be," he said. "Hopefully, my kids come back, and their kids come back too."
Despite the scale of construction work near Toronto, Naclerio said he still does his primary hiring right here in Chatham-Kent.
Michael Lee of Enviroshake said the company is very appreciative of being named industry of the year, the more so considering the company changed hands a couple of years ago, and its future at that time was in doubt.
"It means a lot, especially for the team," Lee said. "About a year and a half ago, this team was acquired, and the team stayed together. This is a group that is open to change and went out and performed at a higher level.
Enviroshake's Clara Smith said the hard work was rewarded.
"We grew stronger and hired more people," she said.
The company produces eco-friendly roofing materials, designed to replicate the look of cedar and slate roof shingles. They ship as far away as the Caribbean and now India, Smith said.
Xavier, who owns the Purple Pansy, said being named business professional of the year is not just for her, but rather for her business and staff.
She said her business is about to celebrate its 15th birthday. She loves its location on William Street, just north of King Street, in downtown Chatham.
"It's a fantastic area, with Retro Suites, the Chilled Cork, Bud Gowan Formal Wear and Enchantment Bridal all nearby," she said. "It's a veritable one-stop shop for brides and grooms."
Xavier said she loves the opportunity to be creative with arrangements, and her customers appreciate it.
"I try to tailor the product to each person," she said. "I don't want to make the same arrangement all the time."
Devolder credits her extensive time at Junior Achievers with getting the youth entrepreneur nod.
"I'm humbled, very surprised and flattered," she said.
The teen said she hopes to attend university for science, and perhaps get into research when she graduates.
Comments
comments