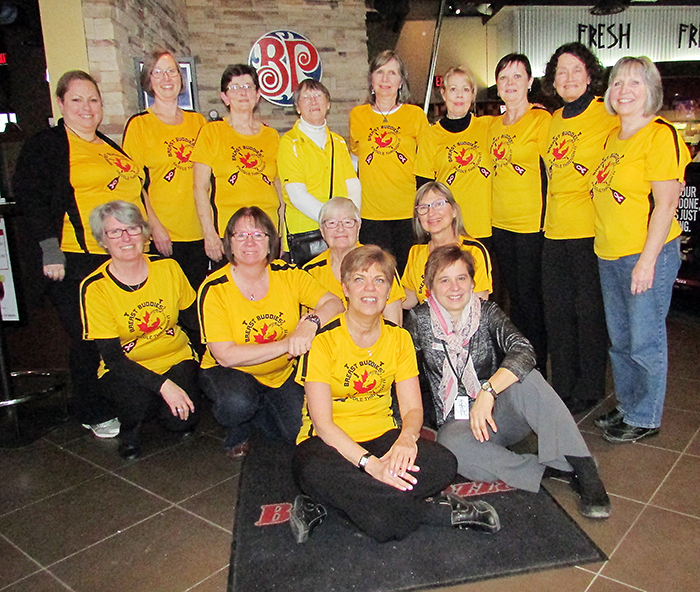 Asking friends and family to fill up on pizza, pasta and salad, the members of a local dragon boat team recently continued their quest for Italy next year.
The Breast Buddies team is to travel to Florence, Italy in July of 2018 to take part in an international dragon boat competition.
>
Janet Ridgers, a member of the Breast Buddies, said the Boston Pizza event sold out. It follows a Valentine's Day event the team held in February.
Ridgers said the event in Italy would mark her third international competition with the team.
"My first one was in Peterborough in 2010," she said, adding she took part in the 2014 event in Sarasota, Fla. as well. "In Sarasota, they built a park for us. It was unbelievable."
Margaret Oxford, who coaches the Breast Buddies crew, said the team is comprised of about 40 people.
"Some are shore buddies, women who can no longer paddle, but still support the team," she said.
Ridgers said she and Oxford actually joined the team the same day, May 22, 2008. Oxford said the camaraderie is quite special.
"They want you in the boat to prevent future cases of breast cancer and they want you in the boat because of the social element and support system," she said.
Breast cancer survivors run the risk of developing lymphedema," Oxford said, referring to a condition that causes the swelling of the arms and legs. The physical workout can help prevent it.
Dr. Don McKenzie, a Canadian sports medicine specialist, started the dragon boat phenomena to give breast cancer survivors an opportunity to gather and enjoy intense upper body workouts together, and provide support to one another. It began in 1996 and has since expanded around the world.
According to McKenzie, "It is an approach to promoting health and raising breast cancer awareness that is driven by women with the disease. It reaches out to other women and offers them a message of hope and support. It is helping to change attitudes toward 'life after breast cancer,' and it encourages women to lead full and active lives. It is making a difference."
Oxford said initially, people were reluctant to encourage breast cancer survivors to tone their upper bodies, in fear it would lead to the recurrence of cancer. But studies show that's just not the case.
"It's like a sisterhood," Ridgers said.
Oxford agreed.
"We give support on and off the water. It's all pretty exhilarating, with 20 of us sitting in a boat of that size and making it move," she said.
The Breast Buddies have other events on the drawing board, but nothing finalized at this time.