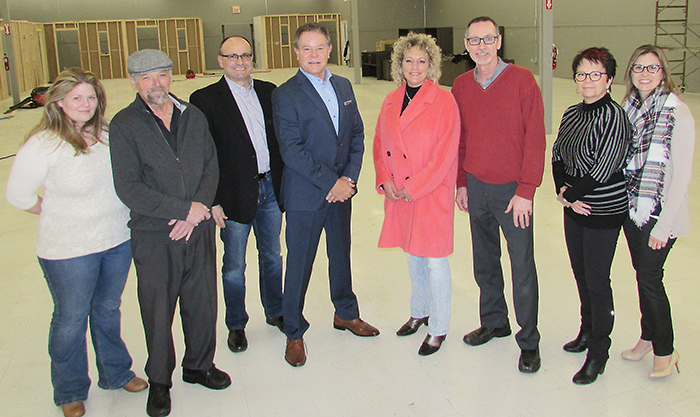 Less than a month after a fire devastated three local businesses, the owners revealed Feb. 8 they will soon have a new temporary location – all under the same roof in The Bargain Shop's old store in the Nortown Plaza.
Being under one roof is how it has been for 15 years with Sacwal, Ideal Decorating and the Lighting & Accent Gallery. But in mid-January, the three adjoined businesses suffered a fire that destroyed their St. Clair Street location.
Since that time, they've set up shop at temporary locations, including Caldwell's Brand Source right next door on St. Clair, with the intent to find a new home, and eventually rebuild.
Harry Verhey, who is part of Sacwal and the owner of the building, said the fire was devastating to all three businesses. All on-site inventory was destroyed.
Alanna Aarssen, one of the partners behind Sacwal, said quick and continued support of the community has been greatly appreciated. She thanked local emergency services crews for their compassion the day of the fire, and said Ed Caldwell of Caldwell's Brand Source opened up a portion of his space to temporarily house the offices of the businesses. Canquest Communications had phones up and running a day after the fire, but other elements, such as warehousing for Sacwal, had to be located elsewhere.
None of the businesses have display areas at the moment. That will change Feb. 21, the target date for opening in the temporary location.
For the three businesses, everyone agreed on the importance of remaining together.
"We wanted to stay together. Our customers tend to cross shop," Aarssen said.
Al Birkby of Ideal is glad to see all three stores staying close.
"We could have all split up, but we work as a team," he said. "We're going to come back stronger."
Jim Kelly, of the Lighting & Accent Gallery, said staying together just made sense.
"This is a united store. It has been for years," he said.
The temporary location has nearly 11,000 square feet of floor space, about a third of the total space available at the old location, Verhey said
The new location is quite different from the other one, he added, as now all three businesses are in one large open area.
"It's really a big-box environment, as we're all under one roof," he said.
Birkby added he is looking forward to setting up in the Nortown Plaza location.
For Kelly, he can't wait to have a showroom again.
"People looking to buy a light fixture want to see it," he said.
Aarssen said they have somehow continued to operate, even without a location, and credited staff with going to huge lengths to make it happen.
"We've filled all our customers' orders. We're still on the road measuring jobs," she said. "Working out of my car has been a bit of a challenge."
Birkby said Ideal's clients have been amazing after the fire.
"After doing this for 30 years, we do have a great client base and they have been very supportive," he said.
Kelly added the local business community has also been supportive.
"The local community has been fantastic. Local businesses have offered us more storage space than you can possibly imagine," he said.
Kelly's daughter Shannon, who also works at the Lighting & Accent Gallery, said customers reached out to her, even while she was away on a missionary trip to Costa Rica.
"The texts and e-mails were unbelievable. The support just poured in," she said. "People reached out; I'm in Costa Rica and I'm still feeling the love."
Mike Peach, a Sacwal partner, said their customers have been more than understanding.
"We've had some very important customers who have been absolutely awesome," he said.
Verhey said he was impressed by the help from the municipality, specifically from Stuart McFadden, acting director of economic development, who was on the phone by 10 a.m. the day of the fire to see how he could be of assistance.
As for plans to rebuild, Verhey said it's a no brainer.
"It's a fabulous location. We wouldn't consider putting it anywhere else," he said.
Vryheid said he's met with an engineer and they are working on a site plan.
He also anticipates the old building will come down in the coming weeks. The municipality can't issue a demolition permit without receiving confirmation the natural gas and electricity to the location have been disconnected.
The three businesses hope to return to their old address, in a new building, by the end of this year.