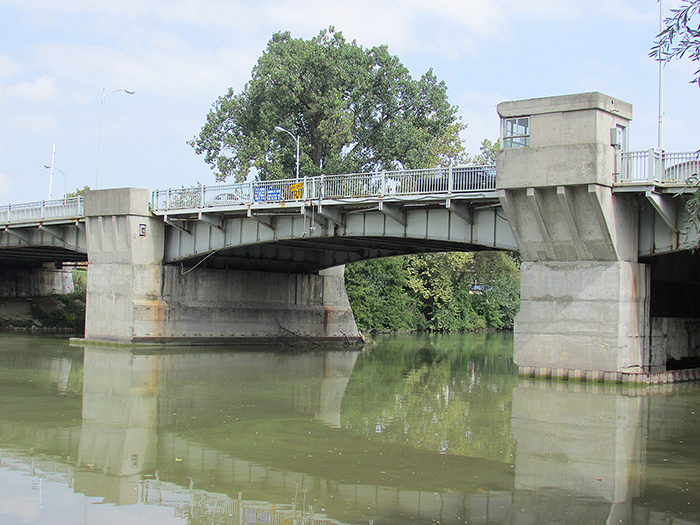 No one is ever happy when a major thoroughfare is closed. It can be annoying and inconvenient.
In the case of the Parry Bridge closure this week, the municipality did it right. Once staff knew there was a problem with the latch mechanism that made for more noticeable movement when crossing the bridge, they took the time to get all the facts, come up with a detailed plan, and make sure the time the bridge was closed was at the least inconvenient and shortest in duration.
That's how it should be done.
Why that same approach didn't apply to King Street in front the Boardwalk on the Thames condo project – where Chatham drivers finally have both lanes open after three years – is an excellent example of the difference between staff being left alone to do their job on a municipal asset and political jockeying with a private business owner.
Not just anybody would have been allowed to get away with blocking a municipal road for three weeks let alone three years, and while the city wants to encourage and help business succeed and thrive, there has to be a line drawn between assistance and political interference.
Rob Myers and Dan Warrener have worked miracles downtown in far less time and with far less inconvenience, keeping the best interests of fellow businesses and residents in mind.
With the Everlast Group, not so much. But we want and need them to succeed – to finish the project, sell the condos and contribute to a vibrant and prosperous downtown. Sooner rather than later would be nice.
So they could take a lesson from the CK engineering department about how to gather facts, make detailed plans and get it done with the least possible impact on surrounding people and businesses.
We didn't get our Christmas miracle, but maybe 2017 will be the year we can say the downtown Chatham condo project was finally finished and we can all celebrate.
That project, when completed and all units sold, has the potential to transform the entire downtown, injecting life into the core and opening up a diversity of retail and service industry potential.