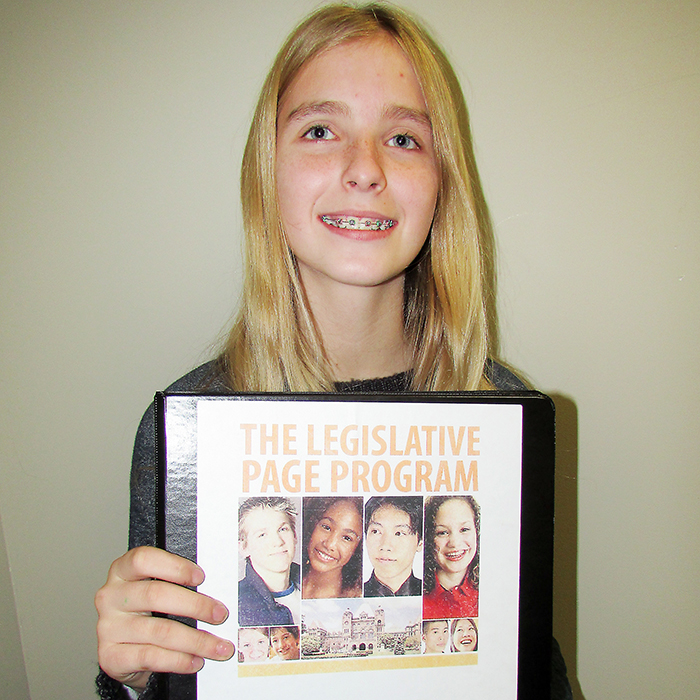 Chatham's Victoria Armstrong is one determined teenager. The 13-year-old Victor Lauriston student is off to Toronto this week to serve as a page at Queen's Park for the next three weeks.
Becoming a page is not a simple task. Victoria had to apply online, writing an essay on how she could be a good page.
As well, she had to maintain an average of 80 per cent or higher.
"It's all about knowing what you are supposed to do. You have to have a ton of stuff memorized – your duties as a page, to patrol the west lobby, and do the water station and deliver bills and motions around the chamber," she said. "And you also have to memorize the names and faces of the MPPs."
On top of that, Victoria has some big shoes to fill. Her older sister Sarah served as a page in 2012, albeit only for a few days. Mother Lora said then-Premier Dalton McGuinty's proroguing of government that year resulted in a short stint for Sarah.
To help with the memorization, Victoria has a large cardboard display of all MPPs, where they sit in the Legislature, and to which party they are affiliated.
One familiar face in the Legislature will be Rick Nicholls, MPP for Chatham-Kent Essex. Victoria volunteered in the MPP's office. But she can't show any favouritism while working as a page.
"I cannot favour any party or person over anyone else. I have to be non-partisan," she said. "You have to watch your mannerisms to ensure you don't offend anyone."
When she's not working as a page, Victoria will be into the books, as her schooling will continue, even though she's hundreds of kilometres from home.
"I had to hand in forms to my teachers and vice-principal so that they'd support me and give me homework that would be taught," she said. "I've handed in a couple of assignments early too."
Still, it's not all work and school over the three weeks for Victoria.
"On Fridays, we get to go on field trips and explore Toronto," she said. "I'm looking forward to going up the CN Tower."
During her time in Toronto, Victoria will be billeted with the family of another page, she said.
While away, Victoria, one of six siblings, will be missed around the house, as she babysits her two youngest sisters, a task her younger brother will have to take over in the short term.
Her mom, Lora, said the family supports Victoria in her decision to become a page.
"We are all excited and happy for Victoria, as she chooses to engage in opportunities like this," she said.
The family members aren't the only ones excited.
"Most of my friends are really excited. Some are bummed because I'll be missing a few parties," Victoria said.