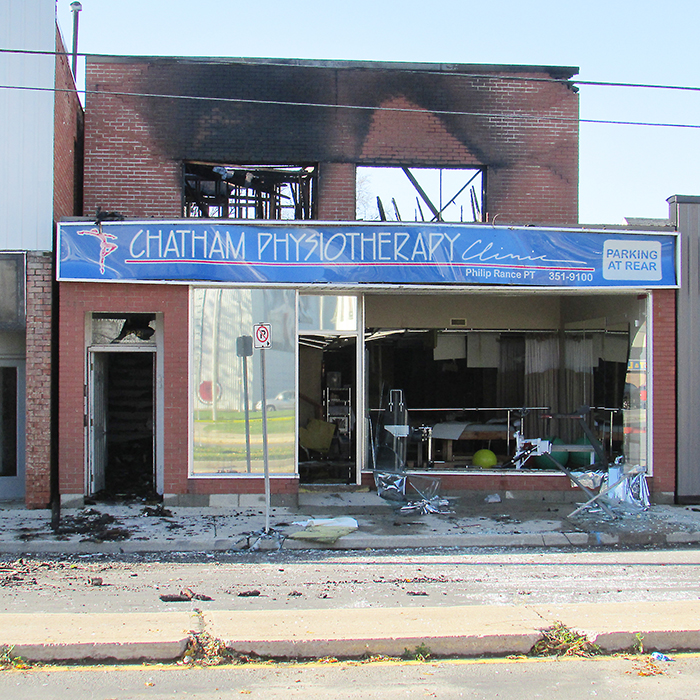 Officials probing the explosion and resulting fire on Queen Street in Chatham Friday night continue to search for a cause.
About 9:15 p.m., an explosion occurred at 202 Queen Street, home of Chatham Physiotherapy, blowing out the front window and sending glass across all lanes of traffic.
Police and gas crews remained on scene Saturday as investigators from the Office of the Fire Marshal examined the scene.
One person was taken to hospital with injuries as a result of the fire, police say.
This wasn't the only fire of the weekend in the municipality, as a home in Dresden was ravaged by fire.
The two-storey Richmond Street home went up in flames about 7 p.m. Saturday night. Estimated damage is $130,000.
Firefighters rescued several pets from the blaze.
The cause of the fire remains under investigation.
Shortly before 5 a.m. Sunday, firefighters were called to Edgar Street in Chatham where another two-storey home burned, suffering about $130,000 in damage.
Due to the extent of the fire, when the firefighters arrived, they worked to contain the blaze, protecting nearby homes.
This fire also remains under investigation.