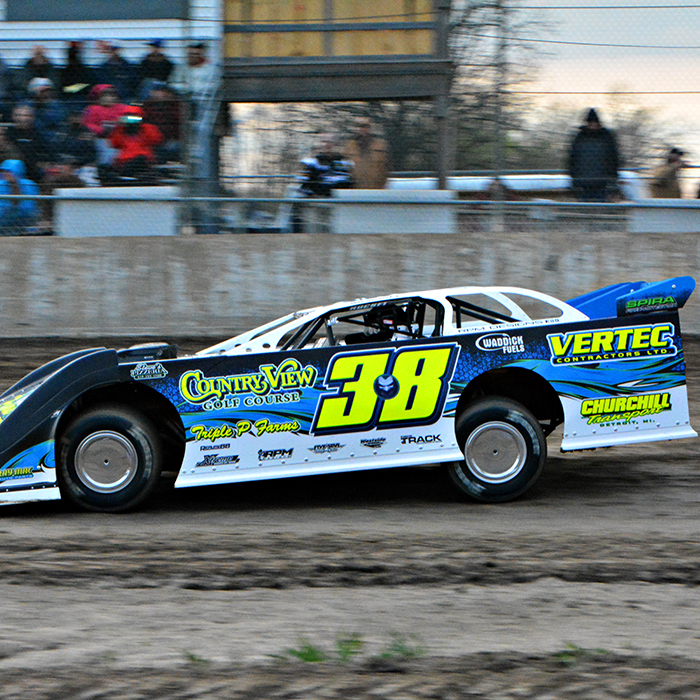 It's been a month since Jake Hooker parked his Triple P Farms/Profota's Garage/AP Engines No.38 Late Model for the final time in 2016. The Chatham-Kent teenager has spent the last 30 days dissecting his rookie season in the UMP Late Model division at South Buxton Raceway and comes away with one word to describe it.
 "I'm very proud of it," Hooker says. "We didn't get any feature wins but we were consistent all year and that's what I'm really happy about. I don't think we ran outside the top-10 once."
The season was all about transition for the 16 year-old Ursuline College student. One season ago, he was king of South Buxton's Sport Stock division, winning a dozen times throughout the campaign.
 This year, Hooker was tasked with transitioning to an 800-horsepower Late Model as a rookie driver against the track's top talent. The new challenge weighed on the young driver throughout the season, he admits, but feels he adjusted well.
"It was hard on me. When you're winning, you always want to come back out and win again," Hooker says. "I think I did well with consistency and having a positive attitude. I'm really proud of how the team worked."
 Hooker finished the season third in points, behind only perennial championship contenders Dale Glassford and Gregg Haskell. With a full season now under his belt, Hooker feels he will be much improved when the green flag drops on the 2017 season.
  "I just think I need some more seat time in the car. I think a lack of seat time hurt us this year with me as a rookie not really grasping everything," Hooker says.
 "This season, I think we showed some people that I was there, we could be consistent and that I could do it. I think next year we'll be a force to reckon with."
 Hooker, who is his own toughest critic, gave his crew, family and supporters an 'A' grade for their backing this season. He awarded himself a 'B', knowing he adjusted well to his new office, despite some expected rookie mistakes. Next season will be about minimizing those errors.
 That's not to say Hooker didn't enjoy his first season in South Buxton's top class. The final points night of the season in September where Hooker finished a season-high second-place finish leaves a lasting memory.
 "Climbing out of the car with my parents there in tears because they were proud of me for running with the top guys is my greatest memory this season," Hooker says. "Seeing all those fans go nuts was pretty awesome too. I don't know where I'd be without all of them."
 Hooker had no intentions of seeing his season end in September, though. He drove to a second-place finish at Michigan's Silver Bullet Speedway a few weeks ago. He also made his asphalt debut in a Ken Spira-owned Mini Stock at Flamboro Speedway's Frostoberfest on October 15 where he finished sixth overall.
 Hooker and his family team have already developed a plan for next season. The team plans to tackle a handful of competitive Ohio and Michigan tracks with a select few home dates at South Buxton.
 "Next year we're going State side. We're going to Attica, Oakshade and we want to try Eldora," Hooker says. "It's time for me to go over to the States and learn something new. We're going to come back to Buxton for some of the memorial races and probably the Shootout."
 Hooker will spend some time studying video of the various tracks this off-season with some go-kart racing mixed in to keep him at the wheel. Until then, he'll continue drawing race cars and racetracks in his notebook during class.
 "I'm not much of a school kid," laughs Hooker. "I enjoy waking up in the morning, going to work and then going to work on the race car."
 Hooker would like to thank his parents, Kirk and Dianne, for their support all season long as well as dedicated crew members Matt and Derian Wauthier. Hooker also received support from his older sister, Taylor, who is now attending the University of Windsor and girlfriend Melody.
Comments
comments