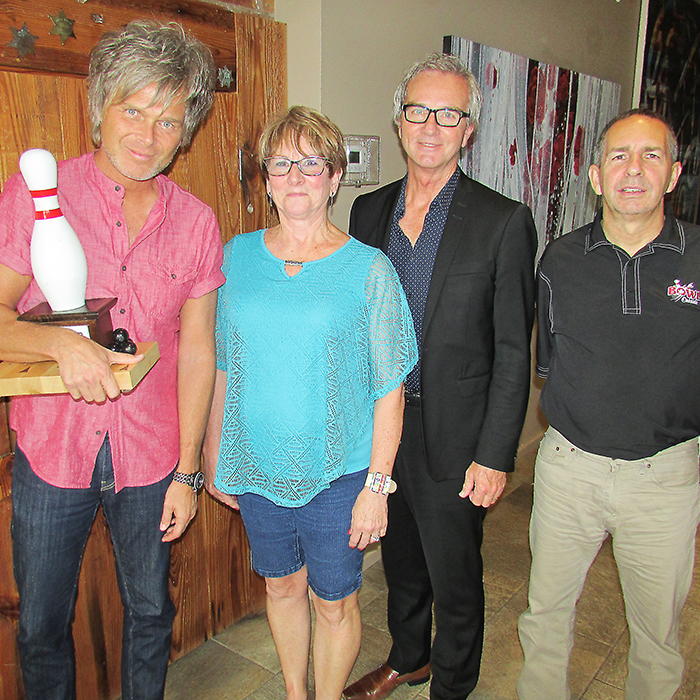 It's all about brain fuel.
That's the essence of Bowling for Hunger and Education, a fundraiser event set to take place Oct. 29 at Bowlerama in Chatham.
Outreach for Hunger and the St. Clair College Scholarship Fund are the recipients of proceeds of the event. Teams of four will raise a minimum of $500 to take part.
Jeff Burrows of St. Clair College is the lead hand in the fundraising effort, but he's got some close friends on board as well, teaming up with Brenda LeClair of Outreach for Hunger, Bruce Cockburn of Bowlerama, and Paul Haslip of RBC.
For Burrows, who is also well known as the drummer in the Canadian rock bands the Tea Party and Crash Karma, teaming up with this fundraising crew just made sense. He said he connected with LeClair while he was a DJ at a now-defunct rock radio station that served Chatham and Windsor.
"I was in radio and I did a lot of local charity work, such as Jeff in a Box, where we raised funds and canned goods for Outreach for Hunger," he explained.
"I really like her attitude," he said of LeClair. "She's knocking on doors and making stuff happen."
Burrows also befriended Cockburn while working in radio. Haslip, a long-time Tea Party fan, got to know Burrows through a mutual friend.
All believe deeply in charity work.
LeClair sees this as an excellent partnership.
"Education is the gateway out of poverty," she said. "And it's hard to learn on an empty belly."
Burrows, who works with St. Clair College in procuring funding to provide scholarships, said the dollars raised from the bowling event, at this point, are almost secondary to the impact of raising awareness.
"It is the awareness that is needed."
LeClair said everything is appreciated.
"Financial support is just as important as the food," she said, adding Outreach staff can purchase specific food staples that donors may have overlooked or are in short supply. "We only shop locally."
She added the need continues to grow by as much as 30-40 families each month.
Burrows said the night would be one fun party for people of all ages.
"He's got the lights down and the music thumping," he said of Cockburn.
Cockburn stressed the family nature of the evening, running from 9 p.m. to midnight.
"They can get in as much bowling as they can," he said of participants.
LeClair appreciates Burrows continued fundraising efforts.
"Jeff is an amazing friend of Outreach," she said. "This is just like another Christmas gift."
Burrows is the mastermind behind The Saints – an all-star Windsor band – and their Sleighing Hunger fundraiser effort each year. The group holds a fundraising concert in Windsor each year, and it continues to grow.
Outreach for Hunger is one of the food banks that benefits from the proceeds of the concert and CD sales.
To take part in Bowling for Hunger and Education, contact the folks at Outreach for Hunger at 519-351-8381.
Comments
comments