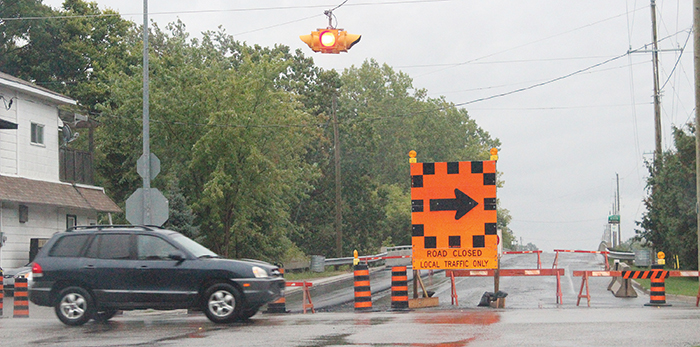 It could be another month or more before the Thames River crossing at Kent Bridge and Longwoods Road is re-opened to traffic following a significant spill of diesel fuel from a transport truck September 15.
Miguel Pelletier, Chatham-Kent director of public works, said the spill took place when a transport truck drive shaft failed, puncturing a fuel tank and spilling several hundred litres of diesel fuel on the north bound lane of the bridge and Longwoods Road.
The nature of the spill caused significant damage to the asphalt surface. The asphalt must be replaced as well as an expansion joint on the north side. Waterproofing must also be replaced.
Pelletier said the Ministry of Environment and Climate Change was contacted through its spill action line.
"There was a slight sheen on the water," he said but the ministry deemed it insignificant enough to not warrant further action so no order was issued.
Considering the heavy use of the bridge during harvest season, Pelletier said his department considered if it was practical to open one lane of the bridge to the public but had to discard the idea.
"Due to the logistics, timing and safety concerns associated with establishing traffic control at the bridge and intersection of Kent Bridge Road and Longwoods Road, the best course of action is to repair the bridge as expeditiously as possible," he told the Voice Monday.
He said failure to make repairs as quickly as possible will significantly reduce the lifecycle of the bridge and road.
Asphalt has been milled off of the bridge and roadway and base asphalt has been placed on Longwoods Road so that it is still accessible to the public. This work was completed last week.
A contractor to address the waterproofing and expansion joint issues is expected to be on site this week but the project could take four weeks or longer since the deck must be clean and dry when those repairs are made.
In the meantime, The Sherman Brown Bridge (Communication Road/Hwy 40) is the nearest available bridge for the public to cross over the river. Thamesville Bridge (Victoria Road/Hwy 21) is also available but currently has a load posting of 20/35/48 tonnes.
Comments
comments