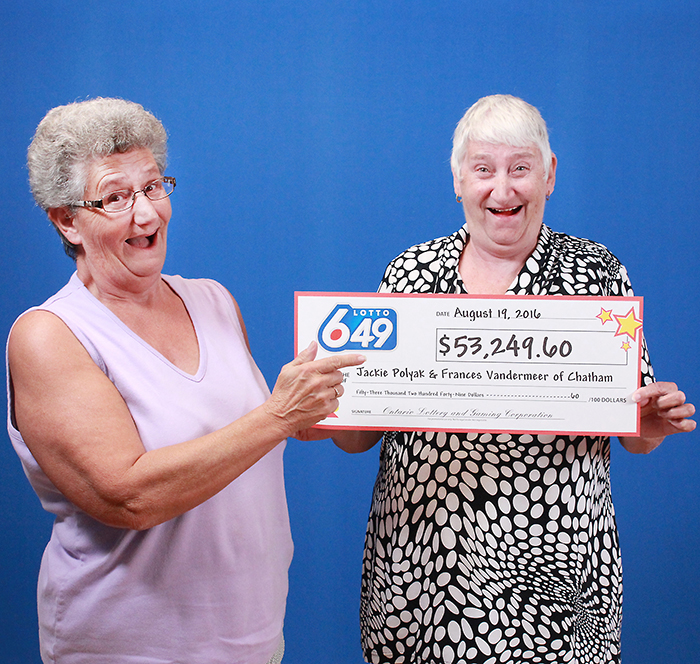 Chatham residents Jackie Polyak and Frances Vandermeer are celebrating after winning $53,249.60 from the Aug. 3 LOTTO 6/49 draw. The pair matched five numbers plus the bonus number to win a secondary prize.
"We've been playing as a group for more than a decade," shared the two sisters while at the OLG Prize Centre in Toronto where they picked up their winnings.
"We were at the store and Fran went to the post office so I decided to go scan our ticket in the ticket checker," Polyak said.
The words 'Big Winner – $53,000' flashed on the screen.
"I thought to myself, 'this can't be right' and rescanned the ticket. The same words appeared again so I went to get Fran. I dragged her through the store by the arm to the ticket checker."
Polyak said she scanned the ticket a few more times.
"I asked her, 'What does that say, $53?' When we realized the amount we won we started crying and hugging. Next we took our winning ticket to the retailer and had it validated. The machine shut down and that's when it all felt real!" Vandermeer said.
The sisters kept their win a secret for a while because they wanted to surprise their family. Meanwhile, they have each made plans for their windfall.
"I would like to buy new furniture, pay off some bills and put some of the money away for retirement. I would also like to share some of my winnings with loved ones," Polyak said.
Vandermeer would also like to share a portion of her winnings with family.
"I am also planning to retire. Just a few days before winning with LOTTO 6/49, my car broke down. I had to buy a new one and I thought I would have to put retirement on hold until I can pay off my new car. Now I can retire. I'm especially looking forward to spending some time with my 15 grandchildren," she said.
Comments
comments