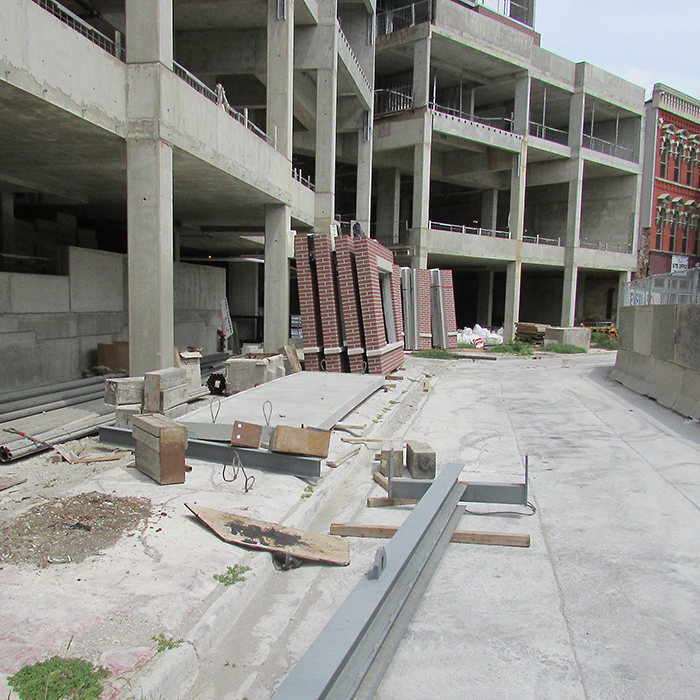 The lack of progress at the Boardwalk on the Thames condominium development has a pair of Chatham-Kent council members raising questions about the project's use of municipal property.
Councillor Doug Sulman has requested information about whether the municipality has a written agreement about how long Everlast Group Ltd., developers of the site, will continue to occupy a King Street sidewalk, part of the road way and a public laneway at the rear of the project at the intersection of King and Fifth streets.
A portion of sidewalk along the north side of King Street between Fifth and Sixth Streets and a right turn lane on King have been closed for three years.
"Is the developer paying a fee, has he made some handshake deal with the mayor, what's going on here?" Sulamn asked. "He can take as long as he wants to finish the project but I'd like an idea as to when we get our street back. I'd like to know if taxes are being paid and if there is some realistic idea when it might be finished."
Sulman said in some municipalities, fees are negotiated and penalties can be built in to ensure municipal interests are recognized.
"In Toronto, it costs money to take over municipal property but in Toronto it doesn't take years to build a condominium," he said.
Councillor Michael Bondy said he's tired of driving through a gutter every time he has to use King Street.
"It is our major downtown thoroughfare and we have this unfinished blight there for all to see," he said. "I go to Toronto and see a 40 story high building completed in 18 months and it's taken seven years since this was announced and it isn't finished yet? I think we're being played for chumps."
The $50 million project was announced in the fall of 2010 with developer Victor Boutin saying he was in Chatham due to the work of mayor Randy Hope.
Work began in 2013 but it has been plagued by construction, labour and safety delays.
Originally, the 13-storey development was to contain 64 condominium units, a 22-room hotel, underground parking and 15,000 square feet of street-level retail space.
The concrete building shell has been devoid of any visible construction work for weeks. A crane was removed a month ago. Seven stories rise above street level.
In April of 2013, Post Media reported 80 per cent of the project was sold. The latest report indicated the building would be closed in by April after delivery of "state-of-the-art" balconies.
The current announced completion date is December of this year.
Bondy and Sulman both said a completed project would be a benefit to the downtown.
"I'd be happy to see it done," Sulman said. "If Everlast isn't going to finish it, sell it to someone who will."
Bondy said the municipality still has more than $200,000 in funds set aside as part of downtown development.
"We can't spend the money since that program is now defunct, but we can put it back into our general funds if the project isn't going to be completed."
A Chatham Voice story last year detailed how a similar Everlast project in the Halton Hills community of Georgetown was in the planning process for nearly a decade without construction taking place.
The 12-acre Barber Mill site that went through various development plans before being abandoned was listed for sale at a price of $5 million.
Everlast had planned to develop a $75 million 44-unit hotel, 50,000 sq. ft. commercial space and a 14-storey 240-unit condominium project there in 2004, but withdrew the plan three years later following objections from residents and plans by the municipality to designate the property a heritage site.
Everlast's website notes the firm was established in 1980 and that founding principal Victor Boutin "guides the operations of the company with a lifetime of invaluable construction solutions for clients."
The site says the Brampton-based firm is a member of the Toronto Construction Association and the Sealant and Waterproofing Association.
Comments
comments