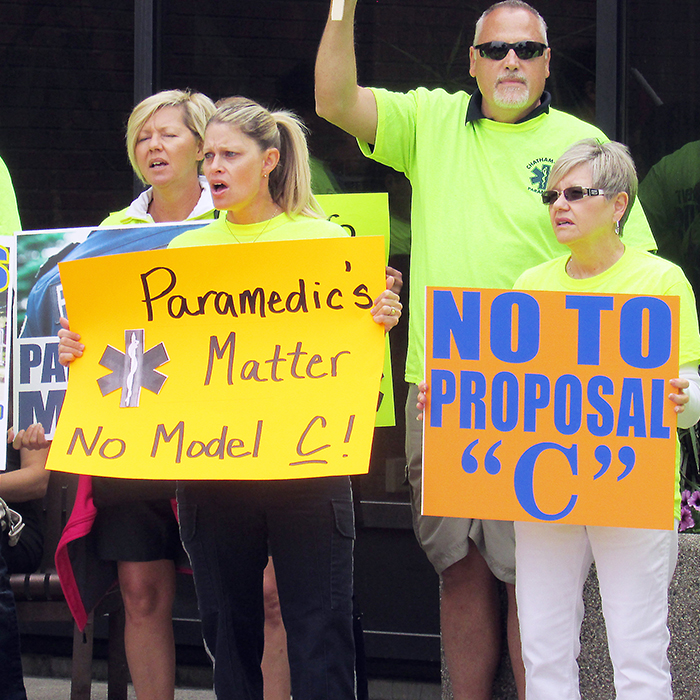 Local paramedics lobbying against becoming part of the Chatham-Kent Fire Department are claiming they're facing intimidation tactics from the municipality.
An estimated 170 people marched Monday afternoon from the Chatham-Kent Health Alliance to the Civic Centre for what spokesman Chris Stolte said was an effort to get council to hear their voice.
Stolte, an executive board member with the Service Employees International Union said paramedics from as far away as Oshawa and Grey-Bruce turned out.
"The proposal put forth by the fire chief is lacking a lot of information. There are options he has that should be put in there for council to look at."
Stolte said a lack of transparency and cooperation should be troubling taxpayers who will bear the cost in dollars and public safety.
"We've offered to participate in the process, we've offered our input, we've called several times and we've got no response," he said.
To date more than 4,200 people have signed petitions against the move, Stolte said, despite opposition from city officials.
There are several petitions still circulating in the community in advance of council's June 27 meeting where the subject will be discussed.
Grant Purdy, a part-time paramedic in Chatham-Kent and a town councillor in Petrolia, said on two occasions Fire and Paramedic Chief Ken Stuebing has personally intervened to stop paramedics from wearing their uniforms while advocating against Stuebing's plan.
In an email to Chatham-Kent Councillors, Purdy said on June 7 Stuebing contacted Medavie EMS (which employs the paramedics) and complained they were wearing uniforms while collecting petition signatures at a Chatham shopping centre.
"Management from Medavie EMS attended the petition location and advised the paramedics that they were under direction from the fire chief to demand that they shut it down immediately, and remove any articles of the paramedic uniform that they have on," he said.
Purdy also said paramedics were sent an email from Medavie Management "advising them not to wear their uniform to a May 16 C-K council meeting – under the direction of the Fire Administration. They were threatened with not being allowed into council chambers if they showed up in uniform."
Purdy called such "actions by Chief Stuebing and/or his delegate, are very unsettling, and can be construed as intimidation and harassment. "
"Furthermore, Mr. Stuebing is not the current employer of the paramedics and as such, has no authority or jurisdiction to make such demands. His actions are undoubtedly a blatant attempt to silence and block the paramedics from making their legitimate concerns for their future known to the public, and council.
It is quite evident that he is attempting to silence the paramedics due to the fact that they have very valid and substantial concerns for their profession, their futures, and the safety of the citizens of C-K as it relates to Proposal C, of which Mr. Stuebing is staunchly advocating for, even though paramedics and many frontline firefighters are speaking out against it."
Purdy said he wrote the letter as a fellow municipal councillor and colleague, "because if he (Stuebing) continues to attempt to intimidate and bully the paramedics, I can assure you that the Ontario Ombudsman's Office will be contacted, and a formal complaint will be filed against the chief, which will undoubtedly have a negative impact on the municipality as a whole. "
In her response to Purdy, Wallaceburg councillor Carmen McGregor called the accusations "hearsay and unfounded."
"You have already pointed out that Chief Stuebing and the municipality is not the current employer and has no authority over Medavie paramedics. I would suggest that should the Chief attempt to interfere with their employees he would be promptly reminded of this," she wrote. "I think that you are acting in a manner very unbecoming to both your positions as paramedic and councillor."
McGregor further wrote "the majority of your fellow paramedics did show up in their uniforms in an attempt to intimidate the councillors. At one point in our meeting we broke out of public session to go into closed session to discuss legal issues. Upon our return to the council chambers your fellow paramedics lined the hall on both sides leading to the chamber entrance requiring us to walk a gauntlet in an attempt to bully us."
Attempts to reach Medavie, Stuebing and McGregor for comment were unsuccessful.