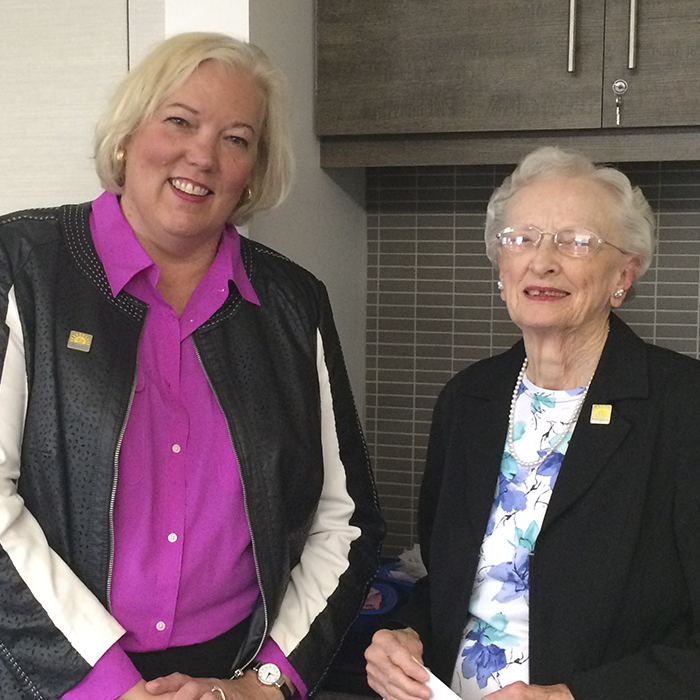 Chatham Kent Hospice board member Kathleen Moderwell has been recognized for her volunteer work by being named to the June Callwood Circle of Hospice Volunteers, one of only 11 individuals in Ontario to receive the honour.
Kathleen, a registered nurse, was part of the Faculty of Nursing of University of Windsor then held the position of Executive Director for the Victoria Order of Nurses (VON) Windsor-Essex branch. She joined the Chatham-Kent Hospice Board of Directors at its inception.
"I am honoured to be added to the June Callwood Circle of Hospice Volunteers, honoured too, to follow Lyn Rush from Chatham-Kent Hospice who joined the Circle in 2015." Said Kathleen. "I believe that in any community, there is a basic eagerness to help people. When needs are idenified, we are quick to say "How can I help?". So it was with Chatham-Kent Hospice, and I am privileged to be one of the growing number of volunteers who believe passionately in providing thoughtful, palliative, end-of-life care. On their behalf, thank you for this award."
The June Callwood Award was established in 1994 to acknowledge and thank outstanding hospice volunteers throughout Ontario. The award was named in honour of the late June Callwood who was a long-time advocate of hospice, community activist, author and recipient of the Order of Canada.