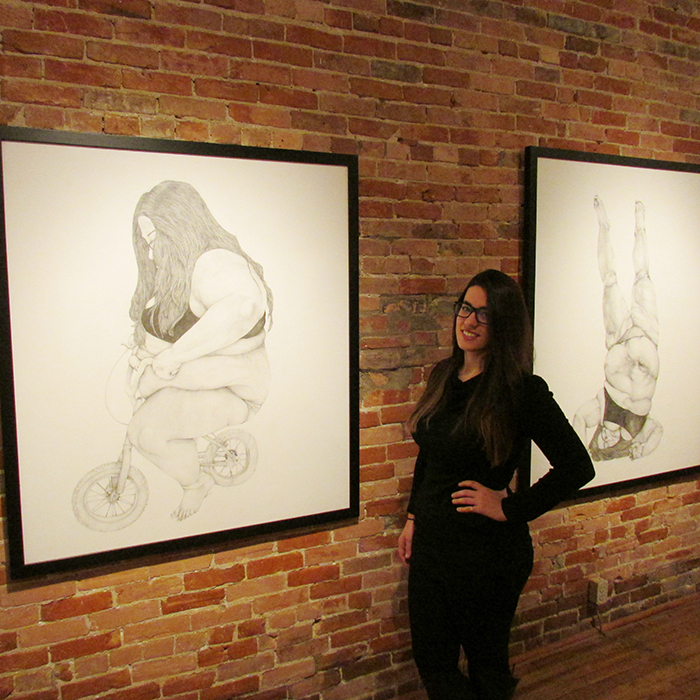 Local artists who've gone on to achieve national and international prominence will be proving that you can go home again when they celebrate Saturday's winter version of the popular ARTcrawl event.
The theme of the event is "Homegrown", reflecting the fact that all artists featured during the evening are originally from Chatham-Kent.
Sonya Blazek, Assistant Curator of the Thames Art Gallery said the six artists featured at the gallery (Adam Matak, Laura Moore, Scott Everingham, Derrick Piens, Kris Knight and Marianne Katzman) are local.
"We hope to show our appreciation for their talent and point out with some pride that we have had, and continue to have, a very strong arts community recognized locally as well as on larger stages," she said.
"Many of them have relocated to the GTA but their hearts are still here."
The evening begins at 6 p.m. at ARTspace with the opening of "Identities" by Kristy Cons.
Blazek said the exhibition features masterfully rendered life size drawings of the female body. There will be warm drinks, treats and an opportunity to browse in the gift shop.
ARTspace Advisory Board Chair Laurie Langford said more than 40 local artists have their work on display at the King Street location.
"There is some great art but what I like just as much about the event is that it is so informal and laid back," she said. "People slip in and out, parents come in with their children, we've had older people; it's just a great way to chase away the January blahs."
Chatham Mazda from Chatham Voice on Vimeo.
The event continues when attendees gather at the William Street Café where owner Susan Jeffrey
is providing snacks and treats featuring locally grown ingredients from River Bell Organic Market Garden in Dresden.
"Susan is such a great supporter of the arts in Chatham and she has an amazing collection of local art on the walls as well as handmade cards, posters and other items," Blazek said.
At 8 p.m., the event convenes at the Thames Art Gallery for the opening of Homecoming and then at 9 p.m.,
Chatham-Kent native Jeremy de Freitas will have a launch party for his first CD entitled "Crossed Off".
(https://www.youtube.com/playlist?list=PL7htOi-9GLok4Z3fFBzSbyDRKCt7xzaQR)
Blazek said displaying local artists' work is not only a way to recognize their talents but also to encourage others.
"It just gives you that extra boost knowing that someone else who was once in your situation has made it professionally," she said.
Blazek said one of the best features of ARTcrawl is that it is a free, informal way for local residents to see what the arts community has to offer.
"You can come for a half hour or the entire event," she said. "It's just a fun time and a celebration."
ARTcrawl has been happening each summer and winter since 2009, she said.
"It's a family-friendly event and a great way to spend a winter evening."