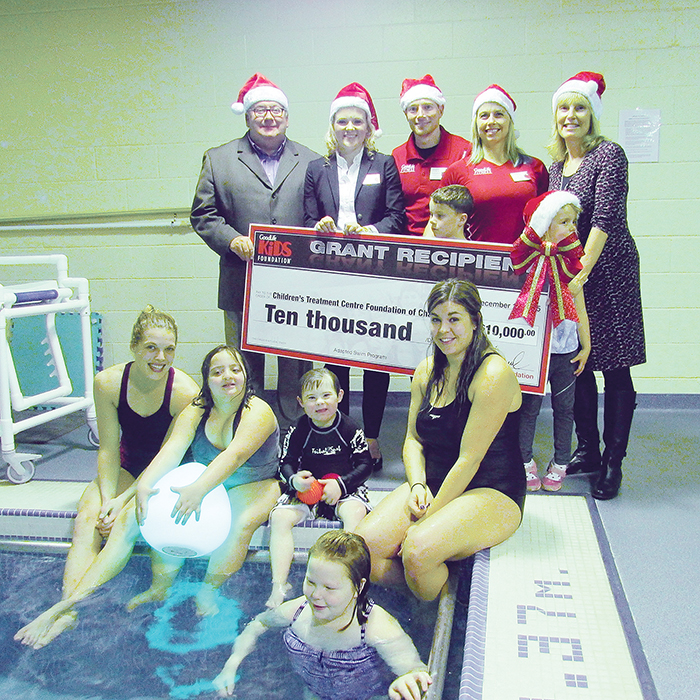 The GoodLife Kids Foundation put an extra-special gift under the tree at the Children's Treatment Centre (CTC) of Chatham-Kent this year – a $10,000 cheque.
The funds are earmarked to support the centre's Adapted Swim Program. The program is open to all CTC clients who are between the ages of three and 21 who have physical, developmental or communication challenges.
The program addresses and builds on a variety of skills and abilities, including recreation and physical activity, pool safety and awareness, basic swimming skills, transition skills, communication and social skills.
Donna Litwin-Makey, executive director of the CTC, said the pool area is often darkened and only illuminated with sparkles of lights on the ceiling, providing "sensory compensations, and a relaxed and intimate environment."
Even the pool toys are geared to compensate.
"The toys with the lights are made to meet the sensory needs of our kids," she said.
"A lot of kids can relax and excel in the pool, as a result."
The skills learned in the Adapted Swim Program are transferable to other physical activity and recreation programs outside of the Centre.
"It's a great start to this holiday season to have the GoodLife Kids Foundation support the CTC's commitment to healthy and active children in our community. This donation will enable the Centre to enhance equipment and programming for the Centre's esteemed Adapted Swim Program," Mike Genge, executive director of the CTC Foundation, said.
The GoodLife Kids Foundation supports organizations and programs that provide opportunities for sustainable physical activity for children, and remove barriers that prevent children from living a healthy life.