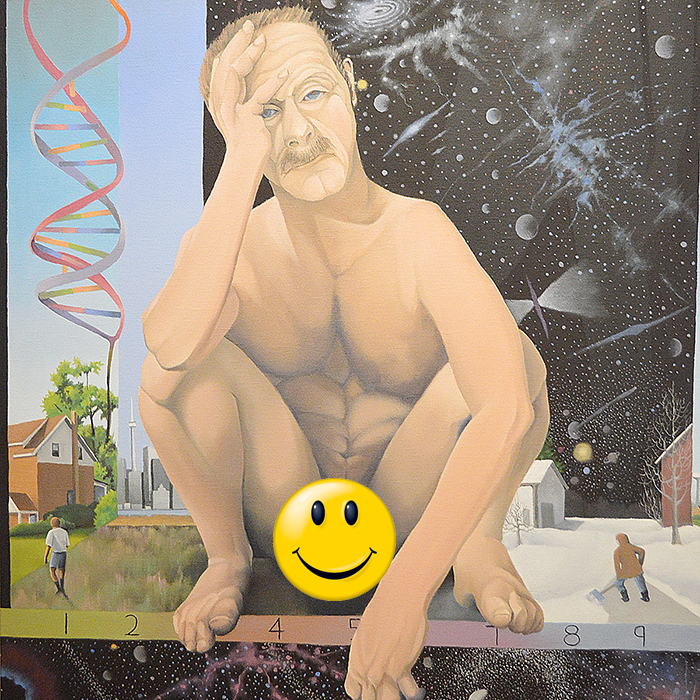 Chatham-Kent's general manager of community development has dismissed concerns by a local artist regarding management of the Thames Art Gallery and whether the images it portrays are appropriate.
Bob Crawford said he was forwarded a letter sent to council members by Penelope Duschene concerning the gallery's juried exhibition, on display now through Jan. 10.
Of particular concern to Duschene is one of 21 works of art in the show, a nude self-portrait by local artist Leonard Jubenville.
After visiting the show, she wrote, "As an artist and a taxpayer I am extremely disappointed in the general management of our local gallery."
Chatham Mazda from Chatham Voice on Vimeo.
She went on to note that "specific pieces: in my opinion they are very concerning, extremely marginal, negatively shocking, (and) pornographic."
Crawford said he visited the gallery, spends time watching people view the exhibition and noted the comments section in the guest book.
"There is no controversy here," he said. "There is nothing to apologize for and there is no community hue and cry or outrage. The painting is in an alcove, there is a note making people aware there is nudity in the show and I don't see any issue."
Crawford said during the course of viewing dozens of exhibitions at the gallery he has seen images that he considered "not my cup of tea" but noted that is part of the gallery's purpose.
"Not every piece of art exists to make everyone happy," he said. "By its' nature, art is meant to evoke emotion. That includes sadness, fear or whatever the viewer sees."
Duschene said she believes both the Thames Art Gallery and ARTspace, the municipality's other supported gallery, don't provide enough exposure for, or cultivation of, local artists.
She said there were some 200 pieces submitted for the juried show and only 16 artists' work was selected, most from outside the area. She said she didn't submit any art for the juried show so has no personal axe to grind.
"A local artist should be encouraged and supported in his or her own publicly funded art gallery. Local artists should be encouraged and highlighted. Art is the heart of civilization and should be the heart of a community, celebrating their local gifts," she wrote.
Councillor Michael Bondy said he forwarded the letter to Bob Crawford. "I want to know if our gallery is in line with our mandate," he said.
For gallery curator Carl Lavoy, the answer is an emphatic yes.
"I'm proud of what we do, I'm proud of the two staff members and I disagree that we don't foster the local art community," he said.
Lavoy said the gallery hosts' juried exhibits every two years, alternating them with Eye for Art that features only local artists.
"The juried exhibitions attracted 200 entries from across Ontario and are judged by a member of the arts community not from the area," he said. "We have no control over who the juror chooses. The fact that we have three local artists says a lot about the quality of our local arts community."
He said the Jubenville painting depicts a man contemplating his mortality, remembering the things that have been important in his life and the realization (through his nudity) that all he will be taking with him as he leaves is what he came into this life with.
He said the Thames Art Gallery mandate is to provide exhibitions featuring regional, national and international art.
The role of ARTspace is to showcase local and emerging artists and provide them with an opportunity to make sales and progress with the art.
"We have 44 members of ARTspace who are permitted to exhibit but even if you aren't a member you can have access to our window front or you can have a member nominate you for a show."
He said he'd like to have more members, however, it wouldn't be fair since space at the King Street location is limited and not all artists would have an opportunity to display their work.
Lavoy said when ARTspace opened, eight years ago, he and his staff accepted and welcomed the extra work of helping the volunteer board that oversees the site.
"We have tremendous volunteers but it does take a lot of work from staff," he said.
Lavoy said the Thames Art Gallery has seven or eight exhibitions a year from sculpture to painting and often plans them three years in advance.
As well, he said the goal is to educate through art classes and lectures with local residents and students, of which more than 3,000 take part in gallery functions each year.
Comments
comments