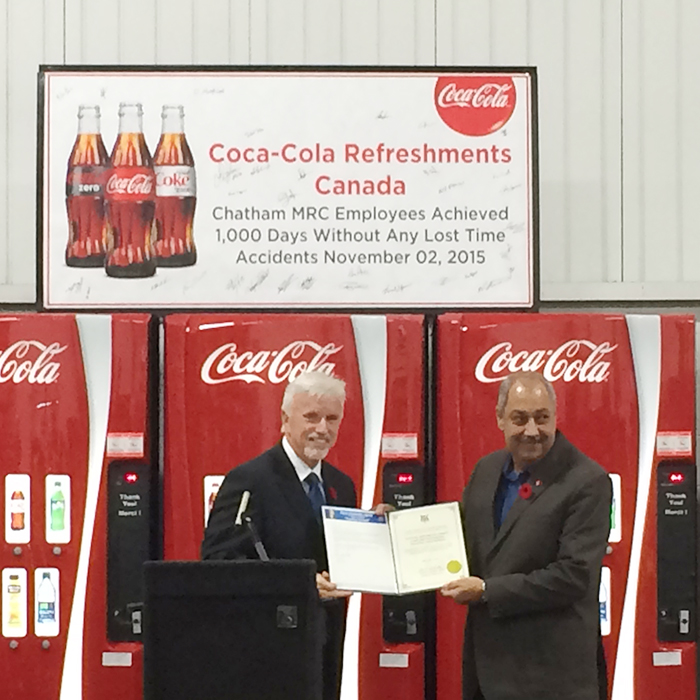 Coca-Cola Refreshments Canada's Chatham facility recently marked 1,000 days of continuous operations without a Lost Time Injury (LTI).
A key worker health and safety indicator, LTI is a measure of injury sustained on the job that is capable of preventing a worker from performing or continuing with a task, resulting in downtime in the operation.
"The health and safety of our employees is our number one priority," said John M. Guarino, President of Coca-Cola Refreshments Canada in a media release. "Reaching the 1,000-day milestone highlights not only Coca-Cola's commitment to a safe workplace, but the dedication and engagement of everyone at our Chatham facility."
Coca-Cola Refreshments Canada operates a "Remanufacturing and Make Ready" facility in Chatham. Employees repair and refurbish equipment such as coolers and vending machines from across Ontario. They also prepare equipment before delivery to new customers and events across Ontario. Coca-Cola has continuously operated its Remanufacturing facility in Chatham since 1992 and currently employs 49 people in the community.
"Strong health and safety records don't happen by accident. It takes hard work and engagement from everyone at the facility," Rick Nicholls, MPP for Chatham-Kent Essex said in a release. "Congratulations to everyone at Coca-Cola in Chatham for this significant achievement and your commitment to a safe workplace."