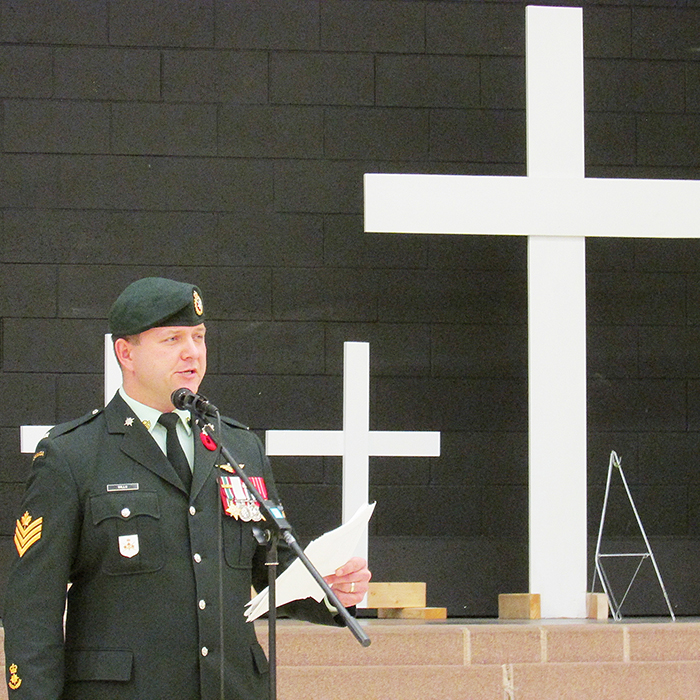 More than 200 students, staff and veterans filled the gymnasium at Chatham Christian School Monday to learn from one of their own what it's like to serve as a member of the Canadian Armed Forces.
Sgt. Ryan Wills, a Chatham native who has served four overseas tours including two in Afghanistan, spoke of how Canadians have always been at the forefront of protecting not only our citizens but also those around the world.
Chatham Mazda from Chatham Voice on Vimeo.
Wills, stationed in Petawawa, has been a member of the CAF for 15 years, serving stints in Afghanistan (2001-2004 and 2008-2009), a year in Africa and another year in the United States.
He has served in infantry, paratroopers and intelligence, and his current assignment, where he plays a role in cutting off funding to terrorists through activities such as confiscating hundreds of millions of dollars in heroin.
The veteran answered questions from students about combat – "it's a surreal situation;" casualties – "it was just plain sad" and the value of serving abroad.
"I was with the first group to go to Afghanistan and there were only about 4,000 students in school at the time, all boys," he said. "Now there are millions of children, including girls, who are attending school."
This is the sixth year for the ceremony that included performances by elementary and secondary choirs, accompanied by the school band.
Wills was introduced by Pastor John Macintosh, a science teacher at the secondary school and a former padre.
"People ask me what's the connection with the military and religion and I tell them that we're both working for the same thing which is peace. I've never met a soldier who wanted war," he said.
Royal Canadian Legion Colour Guard and veterans attended the ceremony, at the end of which, the crowd broke into spontaneous applause as the veterans exited.
"It meant a lot," said Len Maynard of Royal Canadian Legion Branch 642 in Chatham. "We didn't expect it but it felt as if the children really understood the message."
Chatham Christian School Head Administrator Marvin Bierling said the concept of the ceremony is quieter than most.
"It's a time of reflection and our ceremony shows that," he said. "I could tell the students were taking it all in."