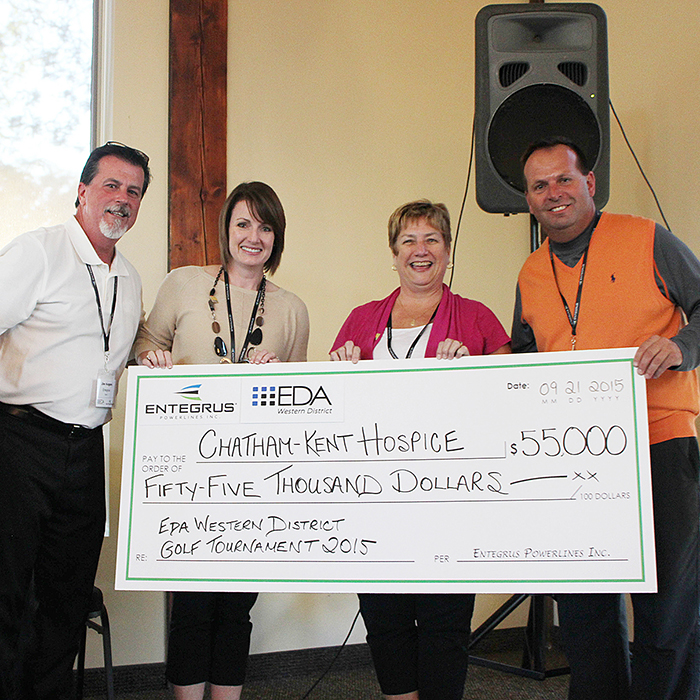 The power of golf was in full swing at the Links of Kent Golf Course recently for the third annual Electricity Distributor's Association (EDA) Western District Golf Tournament.
The tournament is hosted each year by a different member utility and this year's host was Entegrus Powerlines. This sold out tournament hosted 144 golfers from Southwestern Ontario and beyond.
Each year industry colleagues tee off against each other and participate in fundraising activities for selected charities to improve the communities they serve. For this year's tournament, Entegrus chose Chatham-Kent Hospice.
"Thanks to the generosity of the members of the EDA Western District, suppliers, partners and local businesses here in Chatham-Kent and the region, we were able to raise significant funds for this year's recipient of tournament proceeds: the Chatham-Kent Hospice," Jim Hogan, president and CEO of Entegrus, said in a media release. "We are thrilled to be able to contribute $55 000 raised from the tournament towards the new hospice that will not only benefit residents of Chatham-Kent, but our entire region, providing much needed end of life services to both patients and their families."
"What an amazing donation! Thank you to Entegrus, all of the utilities and participants who contributed towards this gift. The funds will be used to purchase furniture and equipment to help make our residential hospice a home; a place where our friends and family can find comfort and care when they need it," Jodi Maroney, director of development for the Chatham-Kent Hospice, said in a release.
Comments
comments