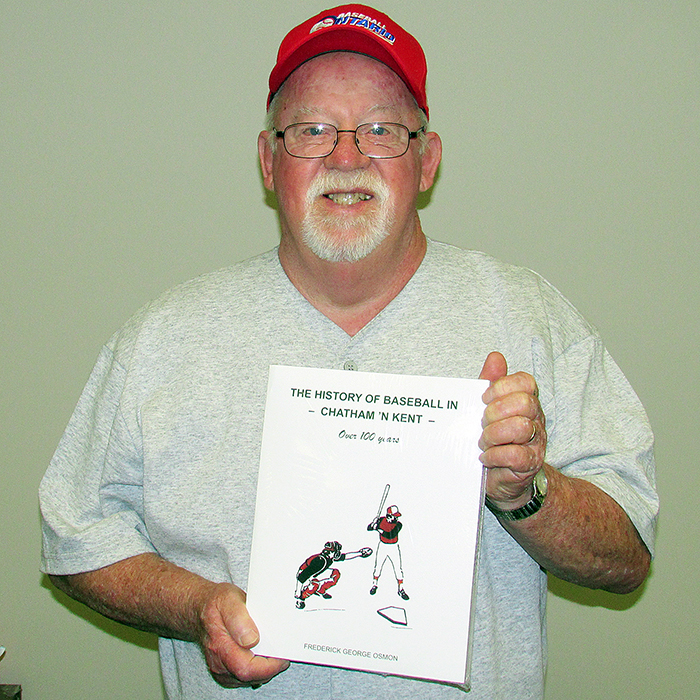 Fred Osmon thought he knew what he was getting into when he began compiling a history of baseball in Chatham and Kent County.
After all, as a 48-year volunteer with and author of a book about the Chatham Minor Baseball Association, he had every reason to believe so.
"Once I got looking at the amount of material, I was actually scared about how I would get all of the interesting stuff into one book," he said.
Chatham Mazda from Chatham Voice on Vimeo.
Four years after he began writing, he has completed the 450-page book entitled, "A history of Baseball in Chatham 'N' Kent."
What he found is that for nearly 150 years, baseball has been played locally and the passion behind it was as great as for any sport, including hockey.
"I found a poem written as an ode to Bothwell baseball in 1938," he said. "There was another time when there as an actual court ruling in 1925 that a property owner adjacent to a baseball park didn't have a right to keep baseballs hit into his yard. People took their baseball seriously."
Although Fergie Jenkins is the area's most famous and accomplished baseball player, he wasn't the first to reach the major leagues.
That distinction belongs to Edward Pinnance, a 6′ 1″ right-handed pitcher who appeared in two games for the 1903 Philadelphia Athletics.
Pinnance is one of 24 locals who have signed professional contracts, including nine who made it to the major leagues.
Much of the book's content came from newspaper records of the day although Osmon spent time interviewing people from various communities.
"I was supposed to meet someone from Merlin one day and when I showed up there were eight former players there," he said. "The stories were just amazing.
The book has content divided by decades as well as chapters about each community including places such as Windfall, a place between Tilbury and Wheatley that is no longer even marked by a sign.
"It was a matter of civic pride to have a good baseball team and there were always tremendous rivalries between towns and villages for bragging rights," he said.
The first baseball game was played sometime in the 1870's and in July of 1884 it was noted that Wallaceburg had two "new ball clubs – the Oak Leaf and the Valley Record."
There is a chapter on women's baseball including information about Marion Watson Stanton who played in the All American Girls Baseball League, made famous in the film, "A League of Their Own."
The local sports legends are featured, including Mr. Baseball of Chatham Archie Sterling whose family donated Sterling, Park and "Boomer" Harding, a multi-sport star who was the first black hockey player to take the ice at Detroit's Olympic Stadium.
"Before the days of widespread television and Internet, there were all kinds of specialty games which drew thousands of fans," Osmon said. "There were donkey baseball games in which players had to hit and field while riding a donkey."
The first night game played in Chatham was when the touring House of David Israelite team of all-bearded, long-haired players brought floodlights with them.
Osmon said he believes local teams have won more than 100 provincial championships, from centres such as Tupperville through to Chatham.
Copies of the book are available for $50 (including tax) and can be obtained by contacting Osmon at 519-436-9873 or emailing him at osmonre39@gmail.com.