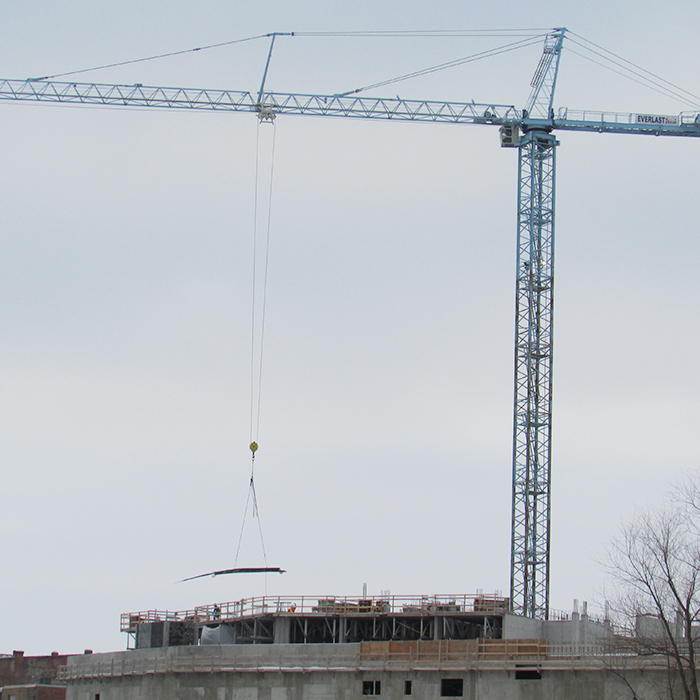 Chatham-Kent Mayor Randy Hope said of embattled downtown developer Victor Boutin, "I wouldn't blame Victor if he packed up and left."
Construction is continuing slowly Boutin's Everlast firm's $50 million Boardwalk on the Thames condominium, a 12-storey project that was originally supposed to be completed in 2014.
Plagued by safety violations, concrete issues, harsh weather and other problems Boutin has stated publicly the project will be completed this year and occupied by early 2016.
Hope said rumors surrounding the project test his patience.
"We have a man who is prepared to invest millions in this community and yet the rumor mongers continue to go after him."
Chatham Mazda from Chatham Voice on Vimeo.
Hope said in the last few weeks he's heard rumors that nearby property were given notice that the large crane that dominates the construction site is being removed and that the quality of the concrete is deficient.
"The rumour about the crane is simply not true," he said. "As far as the concrete, I have no doubt Victor is constantly checking to make sure everything is right. That's the kind of developer he is. He wants it done perfectly."
Despite the concerns, the mayor said he has no plans to call Boutin.
"The relationship I have with Victor is that I don't bother him with phone calls about this stuff," he said. "If Victor has something to discuss or if there's a problem, he'll call me. He has a business to run and I have a municipality which requires my attention."
Calls to Everlast have not been returned.