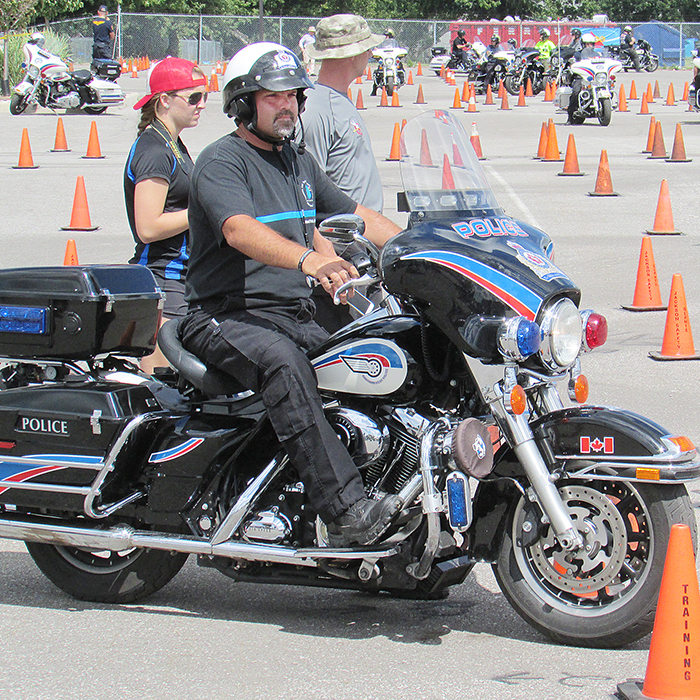 Officers from across Ontario and parts of the U.S. are in Chatham through the weekend taking part in the 2015 Great Lakes Police Motorcycle Training Seminar.
The seminar, hosted by the Chatham-Kent Police Service, is taking place at the John D. Bradley Convention Centre.
This event attracts police motorcycle officers from across North America and will conclude on Saturday with a display of skill as riders compete for the 2015 overall champion title.
Everyone is invited to attend.
The seminar focuses on motorcycle officer safety. This four-day event consists of theoretical and practical training in a forum where the police and the community can work together.
Over the past 15 years, the seminar has raised tens of thousands of dollars for charity. This year, the Ontario Police Memorial Foundation is the charitable recipient.  Local charitable organizations that will also be supported include the Big Brothers/Big Sisters of Chatham-Kent and the Chatham-Kent Law Enforcement Torch Run.
Dukes Harley Davidson will also be in attendance on Saturday with the "Test Our Metal" demo truck. Members of the public will be able to test ride the new lineup of Harley Davidson motorcycles.  A valid motorcycle license and proper riding gear including an approved helmet are required.
Comments
comments