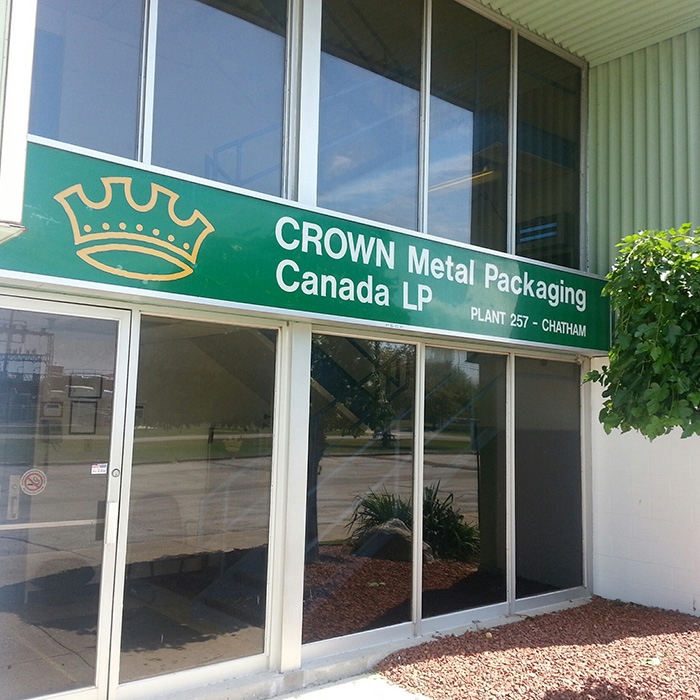 Crown Metal Packaging announced this morning it will cease production at its Chatham plant by Oct. 2.
The move will affect some three-dozen employees who work at the Irwin Drive Street location which manufactures cans for the food industry.
Chatham Mazda from Chatham Voice on Vimeo.
According to a release by Area Manufacturing Manager Gordon Bell, the Chatham plant is a victim of an industry-wide decline.
"The Canadian food can business has faced challenges due to changes in our customer base, increased competition and declining volume in general.
These challenges have caused major changes at this plant resulting in significant reductions in can volumes and consequent reductions in shifts and layoffs. Over the last couple of years we have been running only one shift for the majority of the year. We do not see this changing in the future."
The 160,000 square foot Chatham plant is one of 11 such facilities in Canada and 55 worldwide operated by Crown Holdings.
The firm recently ratified a contract at its Toronto facility after a 22-month strike. The United Steelworkers represented many of the production staff in Chatham.
Calls to the company's office have not been returned.
Stuart McFadden, deputy director of the Chatham-Kent Economic Development department, said his office had been aware of issues with Crown for some time.
"We reached out to Crown management in the hope that we could provide assistance through various programs or other means, however, we received no response," he said. "We have done intervened successfully with other firms and it is extremely unfortunate that we weren't able to help this time. We will begin immediately working with the Ministry of Training, Colleges and Universities to see what assistance we can offer the employees."
Bell said the firm is working with employees, both unionized and non-unionized, to minimize the effects of the closure.
Some employees will be retained to assist with decommissioning the plant, which will operate as a warehouse.
Crown Metal Packaging office on Irwin Street in Chatham. The firm will close in October of this year.
Comments
comments