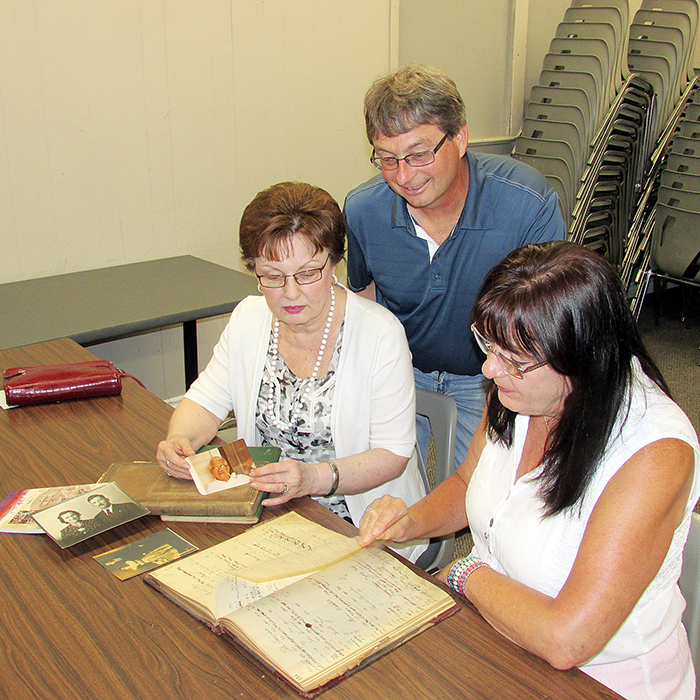 Frank Lacina wasn't an educated man when he immigrated to Canada but his love of learning and reading continues to inspire people more than a century after his birth.
Lacina, born in the Moravia region of Czechoslovakia in 1892, immigrated to Canada in 1923 and shortly after founded one of the few private lending libraries of its time.
Chatham Mazda from Chatham Voice on Vimeo.
His granddaughters Joanne Bartosek and Nancy Gagnon have donated the more than 1,000 volumes in their grandfather's native language to the Czech Hall in Dresden.
"Our grandfather was sponsored to come here, and in turn, once he got established, he began to sponsor other people from home," Joanne said. "Grandmother was always talking about the people who lived upstairs with them until they could move out on their own."
Part of Frank's idea to help newcomers adjust was to buy books and lend them to immigrants. His ledgers of the 1920s and 1930s show the names of people, the title of the books lent and when they were returned, all in flawless penmanship.
His records show the most oft-loaned books were Czech translations of Zane Grey westerns that were hugely popular in the first half of the 20th century.
Frank purchased the books from Czechoslovakia or from a Czech printer in Chicago.
"He lived an interesting life," Joanne said. "He didn't have much education as far as we know but he spoke Czech, Polish, German, English and all the Slovak dialects."
Chatham-Kent Chief Librarian Tania Sharpe said there were some sporadic examples of private lending libraries but it was fairly rare.
"To have someone in our community doing that in their native language is quite significant," she said.
It's surprising Frank made it to Canada at all, considering that he was captured while serving in the First World War and ended up in a Russian prison camp.
"Those were harsh conditions but once they found out what a great cook he was, he had no problems," Nancy said.
When his bride Frances emigrated the couple found themselves with four children in short order.
After initially living in Charing Cross, the couple moved to Blenheim but Frank had purchased a lot and was planning to move again when Frances put her foot down.
"He had picked out a home but when she saw the lot, the deep ditch out front and the fact that to her it was "in the middle of nowhere", he changed his mind," Joanne said.
The family purchased 17 acres of property northeast of St. Clair and Gregory where Frank farmed for many years and the family operated a service station before selling the property. He died in 1989 at age 97.
"This area is very similar in farming to where he came from in Moravia," Joanne said.
Frank's library was eventually moved to the Blenheim Czech club where it remained before relocating to St. Anthony's Church.
"When the church closed in 2008, we were going to take maybe a hundred of the books but when I learned the rest were going in the garbage I heard grandpa's voice saying 'no' so I had to take them," Joanne explained.
Since then, the books have been at her home while she figured out what to do with them.
Luck once again played a role when Nancy began taking art classes and struck up a friendship with Marian Kominek, the wife of Dresden Czech Hall president Al Kominek.
"When I told Al about the books, his eyes lit up," Marian said. "It was a natural fit to have them come here."
Al said the collection is the next step toward a revival of Czech culture in the area.
"There are so many second and third generation Czech families in the area and we want the hall to be a place where we can celebrate our culture," he said.
Once the collection is documented and catalogued, Kominek said volumes may be available for lending.
Last year the Piacek family donated a large selection of Czech records to the hall, some of them going back to the days of 78 rpm.
"We'd like to have some traditional Czech costumes on the walls and we're bringing back our traditional festivals," he said. "There is a lot of interest in our heritage and I'm glad we can help out."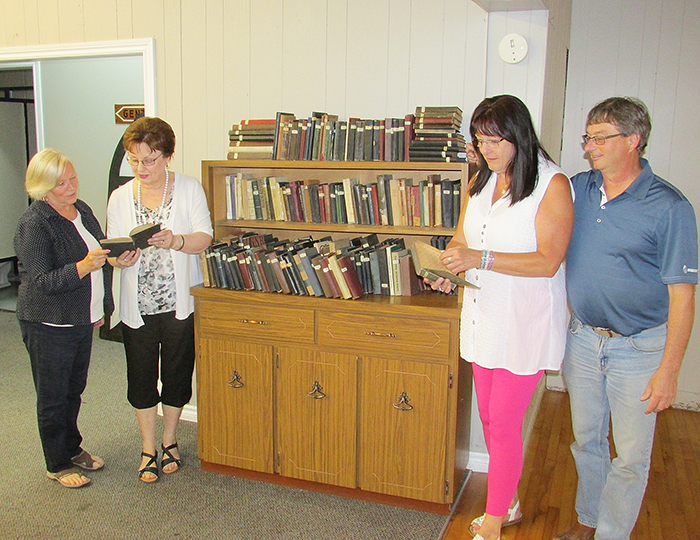 Comments
comments