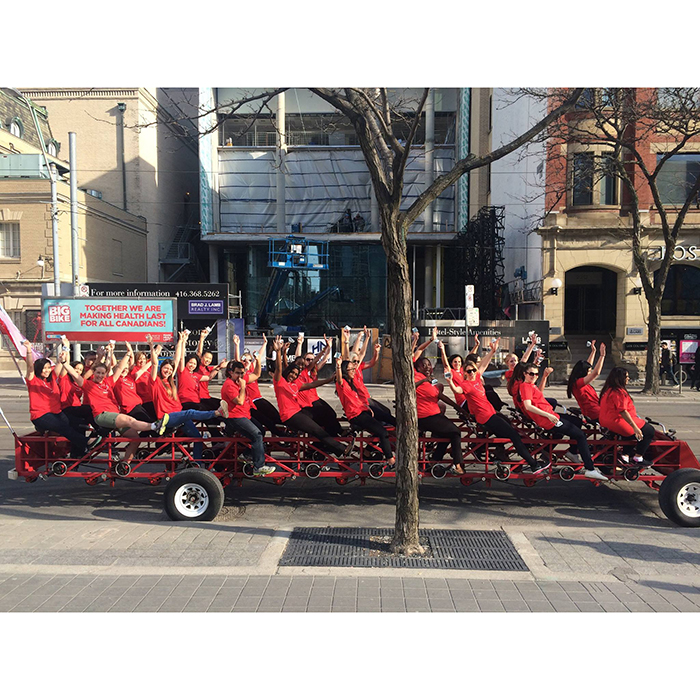 The Big Bike is back this month in Chatham-Kent, and in need of pedallers.
The 30-seat bike, a high profile fundraising platform for the Heart & Stroke Foundation, will be making its way around the municipality from May 19 to 28, with stops in Wallaceburg, Chatham, Blenheim, Ridgetown and Tilbury. The bike is in Chatham May 20, 21, 26, and 28.
Katrina Ancheta, program co-ordinator with the local branch of Heart & Stroke, said the massive red bike draws crowds.
"It attracts so many people because it's a fun event. A lot of businesses come back because they really enjoy it," she said.
Teams from businesses, organizations and families take part. Size doesn't matter. "We have businesses as big as Union Gas riding, but we also have smaller businesses riding together," Ancheta said. "If a business can put together a group of people who want to ride, they can call me. I can slot them in."
Even individuals can take part at most locations.
"In Chatham, Wallaceburg, Ridgetown and Tilbury, there are times where people can just join a community team. We'll put them on the bike and give them a time slot," she said.
Ancheta can be reached at 519-354-6232.
While the bike can hold 29 riders, plus a Heart & Stroke driver, it's usually not quite as full. That doesn't mean a half dozen people will be out and about on it, however.
"We try to make sure there's at least 14 or 15 people so it's not an uphill battle," Ancheta said, noting it does take come pedal power to move the Big Bike.
She said the minimum donation is $50 for each rider.
The fundraising goal this year in Chatham-Kent is $102,000 after the Big Bike brought in just under $100,000 last year.
Big Bike dates
May 19 – Wallaceburg
May 20,21 – Chatham at Frendz
May 22 – Blenheim
May 25 – Tilbury
May 26 – Chatham at Boston Pizza
May 27 – Ridgetown
May 28 – Chatham at Kelsey's
Comments
comments