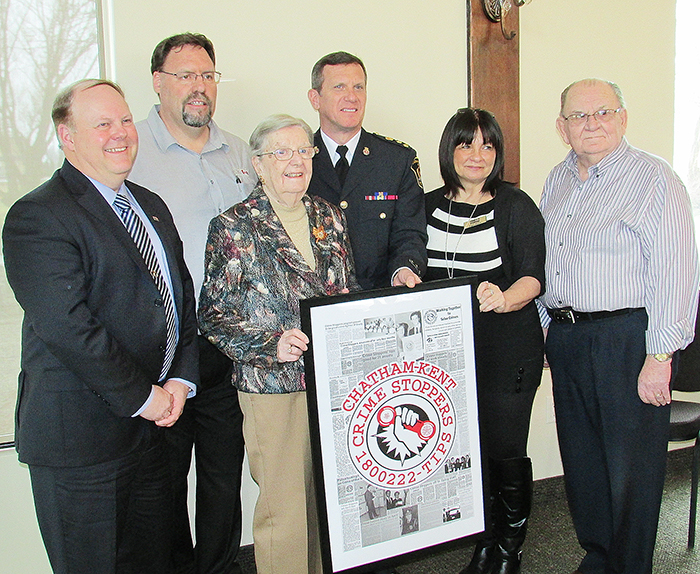 With the chief of the Chatham-Kent Police Service set to retire next month, he went for a trip down Memory Lane Wednesday.
Chief Dennis Poole, who will step down in late April, received a plaque detailing the first year of Crime Stoppers in Kent County – 1987. Not only was it the first year Crime Stoppers took to the phones to receive tips on local crimes, but Poole was the officer assigned to the organization.
On the plaque were new articles on Crime Stoppers clipped out of local newspapers.
He and Marg Illman, who was the inaugural local Crime Stoppers chair in 1987, discussed that first year. She said the idea to start the program locally came when she was at a conference with then-chief Tom Bird and she thought Crime Stoppers would work even better in a smaller community than a large city, as neighbours know more about one another in small towns.
Poole credited the board as the driving force behind Crime Stoppers getting going locally 28 years ago.
"There were some heavy hitters on that board," he said.
Illman agreed.
"It was a strong board that made it go, right across the county," she said.
Illman said in the beginning, board members would pay off the tipsters out of their own pockets.
In some ways, little has changed over the years with local Crime Stoppers' efforts, according to Poole. He described the people involved with the program today as "a long-serving, very dedicated group of volunteers. Without these board members and community support, we wouldn't be as successful."
Then again, there has been some evolution. Dave Forster, head of Ontario Crime Stoppers and Canada's representative of Crime Stoppers International, spoke at the luncheon and highlighted how things are changing, not just in this province, but around the globe.
He said human trafficking is the fastest-growing crime in the world. There are more than 30 million slaves around the planet, in an industry worth an estimated $40 billion.
"It's in our own backyard," he told the gathering of police, sponsors and media.
In Ontario, terrorism tips are on the rise, up 300% in 2014 from the previous year, Forster said.
He added that animal smuggling is a growing concern. Internationally, only narcotics, counterfeiting and human trafficking are more prevalent.
For what started as an organization battling property crime and drugs, things have changed over the past three decades.
"Anti-terrorism, human smuggling, and animal smuggling … it is so different now than in 1987," Poole said. "I can't believe Crime Stoppers is taking tips on anti-terrorism."
David Bakker, the officer who is currently overseeing Crime Stoppers operations in Chatham-Kent, 2014 was another solid year for the organization, even though call volume was lower than the previous year.
"Calls around the province were down about 10%. But arrests and recovery of property and number of cases remained consistent," he said. "We were still getting good tips."
C-K Crime Stoppers received more than 600 calls last year, leading to 84 arrests and 240 charges laid. The total dollar value for drugs seized and property recovered topped $400,000.
To date, the organization has handled nearly 24,000 calls, resulting in nearly 6,000 arrests, more than 14,000 charges, $9.7 million in property recovered and a staggering $85 million in drugs seized.
Bakker said calls are on the rise already for this year.
Forster said Chatham-Kent's success with Crime Stoppers receives recognition beyond our borders.
"Your program is recognized worldwide for your efforts," he said.
Bakker's goals for 2015 are to unveil a new website, create a Facebook page and get C-K Crime Stoppers sending and receiving tweets.