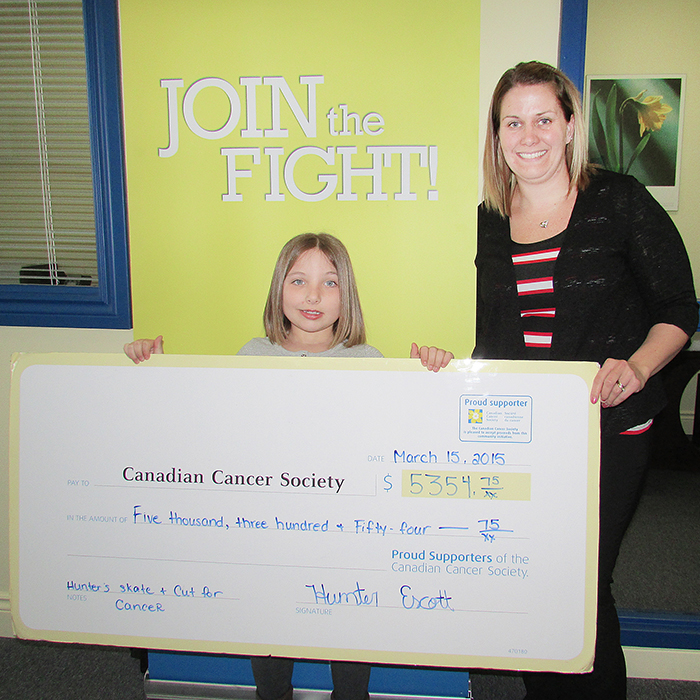 When a young Tupperville girl discussed the death of a cousin due to cancer with her family, she decided she wanted to do something to help beat the disease.
Hunter Escott's wish came to fruition recently as she held Hunter's Skate and Cut for Cancer March 15, raising more than $5,300.
Hunter, 8, cut off about 18 inches of her hair as a fundraiser. But that was just the tip of the fundraising iceberg, as more than 125 family and friends turned out to the Thames Campus Arena to take part in the day. There were door prizes, candy kabobs for sale, and just a great deal of fun to be had.
Chatham Mazda from Chatham Voice on Vimeo.
On March 15, everyone took to the ice for a skate and then headed up to the community room where Hunter had her hair cut off, which she donated to Locks of Love.
The funds raised will go to help fund childhood cancer research.
Hunter's uncle Scott Ball, whose late daughter Shelby Sullivan is the inspiration behind the effort, was floored by the result.
"I'd like to say thanks to everybody for their support," he said. "Hunter did an amazing thing for such a young child. We can't thank Hunter enough."
Hunter's mother, Brooke Field, is a proud parent.
She couldn't believe how much support her youngest daughter received from the community. Sponsor businesses and individual donors were quick to help out.
"It was overwhelming. We sent an event goal of $2,000. We couldn't believe the response. It blew us away," she said. "The kindness of strangers is just incredible."
Hunter is also very appreciative of the results.
"Thanks to the people who were so supportive when I was doing Hunter's Skate and Cut for Cancer," she said.
Hunter, a goalie with the Chatham Outlaws, joked her shorter hair has improved her play between the pipes.
"I get up faster because I don't have so much weight," she said.
What does she plan to do now, with her shorter hair? Hunter wants to let it grow back and do it all over again.
Comments
comments