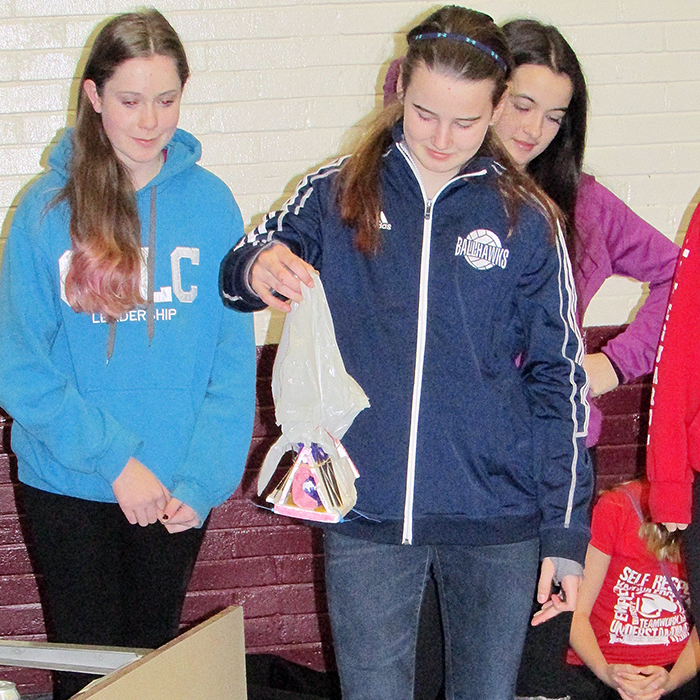 Design challenge attracts more than 100 kids
 More than 100 teens gathered on Saturday to show off their ingenuity.
They took part in the Professional Engineers of Ontario impromptu design challenge at John McGregor Secondary School.
Teams of high school students built catapults to launch Ping-Pong balls over a barrier and into a cluster of plastic cups, getting measured for accuracy and distance.
Chatham Mazda from Chatham Voice on Vimeo.
Grade 7 and 8 students worked in groups of four to build capsules that were intended to protect an egg from cracking.
These capsules first had a basketball rolled into them, and then were dropped from a distance of three feet onto the gym floor, before having a basketball dropped onto them from a similar height. Each test was conducted three times.
Four capsules survived the tests and competed in the final. Judges started by dropping the basketball from over their heads, but had to break a tie – and someone's egg – by throwing the basketball from that height down onto the structures.
Allie Doran, a King George VI Public School student who took part in the challenge with three classmates, said competitors were given some Styrofoam, stir sticks, straws, popsicle sticks, a plastic shopping bag, markers and a pair of scissors to make the egg protector. Doran's group opted to build a prism-like compartment.
"Triangles are the most supportive structure," she said.
It easily deflected the rolling basketball. Teammate Hannah Teetzel dropped it three times from three feet, and it handled that no problem.
But the initial impact from a dropped basketball weakened the structure. The second drop crushed the prism, and the egg.
Ellen Sinclair, who organized the event, complimented the students on their ingenuity.
"They surprise you. They really invented some great devices," she said.
The challenge is an annual event, but Sinclair said each year offers different builds for participants.
The fun event is designed to get kids interested in engineering.
"Engineering is a great profession to get into. This is to promote it as a career opportunity."
Sinclair said she felt no remorse about being the person who dropped the basketball that crushed so many eggs on the day. That's part of engineering, she said, and the best way to test out the strength of a design.
"I loved at school when you'd build something and crush it," she said.