Local couple reaches out for aid after furnace conks out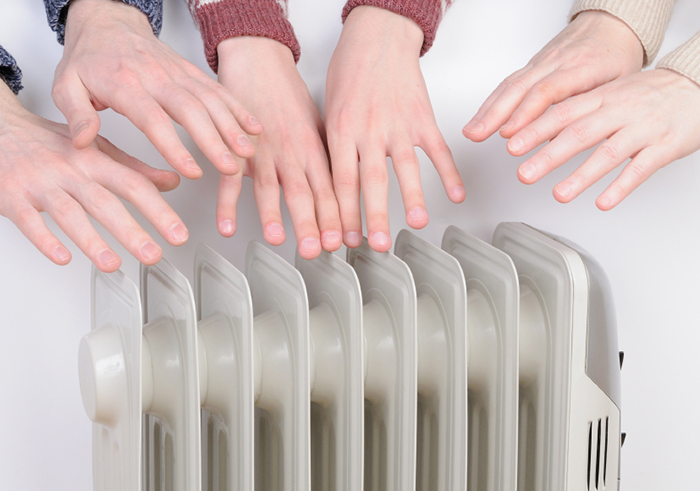 You're cold. The wind is howling and snow is piling up around your home on a chilly Monday night.
It keeps getting colder. You put on an extra sweater and layers of socks, but it doesn't help. You can't afford a high heating bill, but as you become chilled to the bone, you turn up your thermostat.
Nothing happens.
Chatham Mazda from Chatham Voice on Vimeo.
You become alarmed and call a heating company while adding more clothes and check wrapped pipes. They come to your small farmhouse by the lake and give you the news you can't bear to hear.
The furnace can't be fixed. A new system will cost $6,000, money you don't have and can't get.
That's where Ron and Pam Mazerolle were after their furnace broke three weeks ago. The South Kent couple tried to heat the home with electric space heaters, devices which aren't designed for that job.
Out of desperation, they called The Chatham Voice to see if the newspaper had information about any programs that might get them through the winter. Thanks to The Voice putting the word out and the compassion of companies such as Fahrhall Mechanical Contractors, this story has a happy ending.
When Fahrhall heard about the Mazerolle's situation, they reached out to the company's Home Comfort Specialist in the Chatham-Kent region, Tony Coppola, according to Alana Mariani, marketing co-ordinator at Fahrhall.
"As soon as we heard the story, we knew we needed to act fast and do whatever we could – it was an escalated matter due to the extreme cold weather in recent weeks," Mariani said. "Our team will be providing them with an economical, high-efficiency Lennox propane furnace worth $5,000 installed – it will keep their house warm and cozy for years to come."
When Coppola let the Mazerolles know he was coming to assess their needs and get them a furnace at no charge, Ron was "flabbergasted."
"I can't believe it – that complete strangers would do something like this for us," Ron said. "I'm stunned and overwhelmed and just so grateful."
When Coppola came to their home, Pam said he told them he was installing a brand new furnace and the couple didn't have to worry about a thing; Fahrhall was going to take care of everything.
"We are just so overwhelmed," Pam said, trying to talk through the tears. "Tony showed us a bill with a zero balance and had a note at the bottom of it."
The compassionate message brought Pam to tears.
"We are just so happy and feel so fortunate and blessed Tony is helping us.
"Thanks to you for putting the word out," she said of The Voice. "I worry, though, about all the other people in the same boat."
Before they found out about the new furnace, Ron and Pam talked about their situation, and the number of agencies they called trying to get assistance.
They found out that the social safety net that is supposed to help people like them has a gaping hole in it. Services they thought were there to help in emergencies have said no, telling them they received all the help they are going to get.
Many families find themselves in the same predicament with nowhere to turn. The Ontario Energy Board LEAP program, run locally by Entegrus and the Salvation Army, only has so much money to give to help with heating bills, and this winter has been particularly hard.
Ron is a seasonal truck driver who gets laid off each winter and spends that time trying to make sure bills are paid with his unemployment cheque – bills that have piled up and caused credit issues for him and his wife, who is a dog groomer hoping to start up her own mobile business.
Daily life has been a struggle since Jan. 26, as they tried to survive one of the coldest winters the area has seen in a while. Freezing floors and blowing winds made life very difficult for the couple, who tried every resource they can think of to help them get a new furnace.
"We're struggling to make ends meet," an emotional Ron explained. "We basically live paycheque to paycheque and I spend all winter trying to catch up, then summer working like crazy, only to end up back in the same shoe again."
Besides the generosity of Fahrhall, a saving grace for Ron has been the Goodwill Career Centre in Chatham, and the program they have to help people upgrade their job skills for a second career. Visiting the centre, he was paired with employment consultant Nick Sennema, who helped Ron enrol in a six-week course for this March to upgrade his driving licence from D to A. That change will give him the chance at full-time employment and a steady paycheque.
"I've been a D driver for 30 years. I've had enough with layoffs and bills accumulating," the truck driver said. "I'm fortunate to be healthy enough to get out there and work. Doors have been slammed in my face and you feel like nobody cares, then there are people like those here at Goodwill to help me get a new career, to listen and give us a second chance."
The centre assesses the needs of clients that come to them, and then works to match talents and skills to an employer's needs. For Ron, he already has two job offers lined up once he completes his course, thanks to help from Sennema to apply for job training funds through the Ontario government and matching his upgraded skills to local employers.
The Career Centre offers programs for people on unemployment, as well as those job searching, looking to upgrade their current skills or who have a job but need a better income, helping to find the quickest route from training to landing a job. With furnace issues like the Mazerolles are facing, the centre also helps make referrals to try and get them the help they need.
"Our services are for anyone, unemployed or employed and looking for different work," Employment Services manager Joanne Gervais said. "Ron is participating in the second career program and we helped him make an application to the Ministry of Colleges and Training."
According to Gervais, it is a three-step process of looking for an appropriate training course, applying to the ministry, and, if approved, cutting a cheque to take the course.
The centre also helps clients by assessing their skills, interests and experiences and matching those talents with an employer's needs. From help with resumes and cover letters to training to access to wage subsidies, Goodwill consultants walk clients through the whole process in a caring and supportive environment. There is also a specific program for workers over 50 who have been laid off and need assistance with a career change or skills upgrade, and people will disabilities.
Ron got choked up while trying to describe what the help of the Goodwill Career Centre has meant to him while going through the past two months of one setback after another.
"You don't know what it means to know we aren't alone and to have someone who will listen," Ron said. "I didn't even know there was help out there until my wife told me about it. I don't want to use and abuse the system. I'm just a man who wants to keep warm."
For more information about the Goodwill Career Centre, call 519-354-4400.
Comments
comments