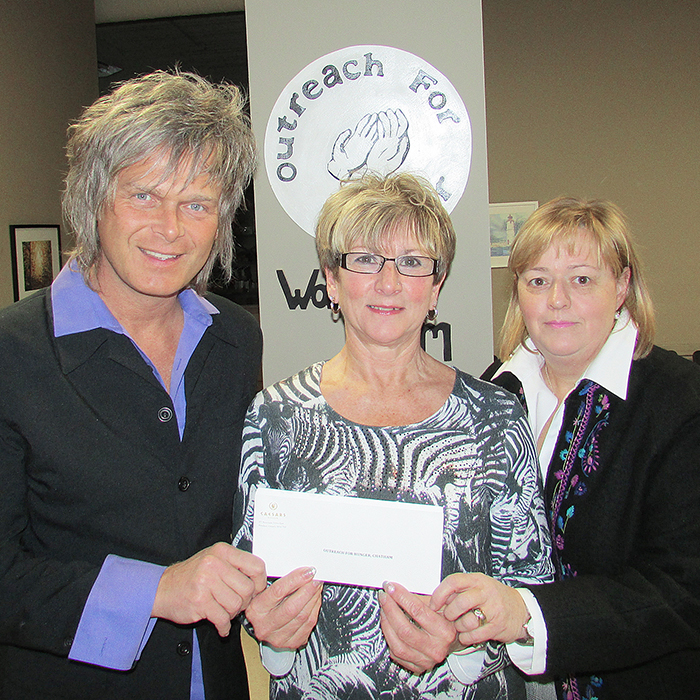 The giving came from all angles Thursday, as a college, a casino and an all-star band donated a combined $15,000 to Chatham's Outreach for Hunger.
Musician Jeff Burrows, a member of The S'Aint's, said the funds come from the Sleighing Hunger campaign, with involvement from St. Clair College, Caesar's Windsor, and proceeds from the sales of the band's Sleighing Hunger CD.
"We're pretty hooked on helping food banks," Burrows, well known as the drummer for the Tea Party, said. "We helped a couple of places in Windsor as well."
The Unemployed Help Centre and the Downtown Mission received cheques for $15,000 a day earlier.
"I Love the grassroots, street-level good that they do here," he said of Outreach for Hunger.
The funds were raised through the 2014 Community Christmas Concert held at Caesar's Windsor, as well as the aforementioned CD sales.
Burrows said people can still donate to the campaign by visiting sleighinghunger.com.
Jody Raffoul and Big Sugar's Kelly "Mr. Chill" Hoppe are just two of the other members of The S'Aint's.