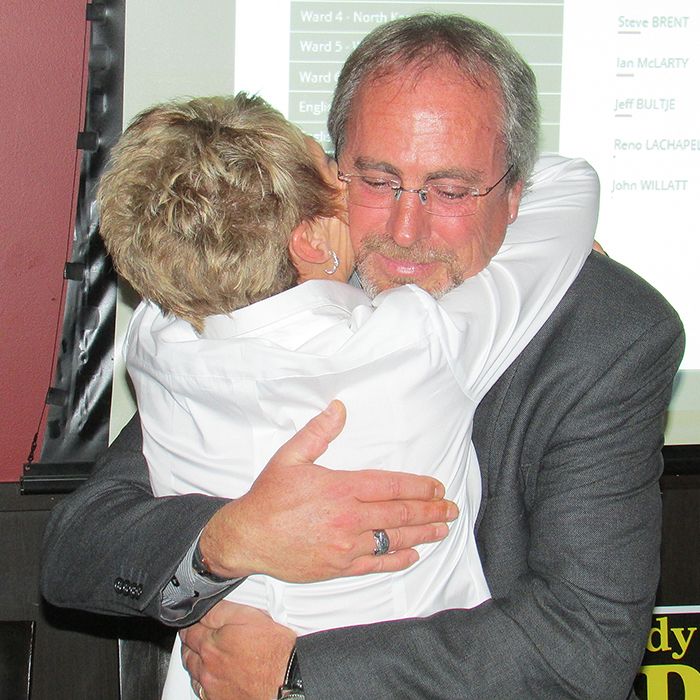 Mayor Randy Hope will get the opportunity to complete his 12-year vision for Chatham-Kent as he earned a third term in Monday's municipal election, defeating six opponents.
Hope outpaced councillor Marjorie Crew and five other candidates with a total of 9242 votes, 1,358 ahead of Crew.
Chatham Mazda from Chatham Voice on Vimeo.
Finishing behind Crew were Steve Brent with 5,603 votes, followed by Ian McLarty with 4,451, Jeff Bultje with 4,298, Reno Lachapelle with 558 and John Willatt with 339.
Hope and Crew were the only candidates to have had previous municipal council experience prior to seeking the mayor's seat this time around.
Hope, visibly fatigued by 9 p.m., called this campaign "interesting.
"This is one of the first with social media," he said, admitting he's not sure if that was for positive or negative. "And we had very little in terms of debates. Today has been stressful."
He said some elements of the campaign, especially on social media, got "vicious."
Hope described Crew as a good candidate that some may have underestimated her, something he said he never did.
He said the focus for the next four years is employment.
"Jobs are the key. We've got to put people back to work," Hope said. "And foreign investment is key to our success in lowering the jobless rate and decreasing tax assessment on individuals."
Crew spent the evening at her home in Chatham's east side, surrounded by friends and family.
"That's the way we do things," she said of the friendly gathering. "I won anyway. Look at the people I'm surrounded with."
Crew offered some advice to Hope for the coming four years.
"You have to be a collaborative person," she said, stressing the need for the mayor to work with council as a whole.
Voter turnout was 42.1%, 2.2 per cent higher than 2010. In all, 32,783 of 77,855 voters cast ballots.
Hope took an early lead and never looked back, opening an 800-vote margin within the first 45 minutes and cruising to the win.
Hope had defeated Tom McGregor in 2010 by 2,220 votes and Diane Gagner by 2,554 in 2006.
It was his lowest vote total in three elections, having collected 13,171 in 2006 and 11,578 in 2010.
In Ward 6, Chatham, newcomer Darrin Canniff topped the polls with 7,000 votes, followed by incumbents Michael Bondy with 6,821, Doug Sulman with 5,779, Derek Robertson with 5,063, Bob Myers with 4,677 and newcomer Brock McGregor with 4,385.
In Ward 1, West Kent, Bryon Fluker was returned with 1,545 votes, while newcomer Mark Authier took the second seat with 1,291, replacing Brian King who didn't seek re-election.
In Ward 2, South Kent, first timer Trevor Thompson topped the polls with 3,373 votes while veterans Frank Vercouteren with 2,800, and Karen Herman with 2,352 were next. Two-time incumbent Art Stirling was fourth at 2061.
In Ward 3, East Kent, incumbent Steve Pinsonneault led with 2,035 votes. David VanDamme in his first attempt knocked off incumbent Jim Brown, 1,762 to 1,634.
In Ward 4, North Kent, incumbents Leon Leclair with 2,668 and Joe Faas with 2,631 won easily.
Jeff Wesley topped the polls in Ward 5, Wallaceburg, with 2,383, while first-time candidate Carmen McGregor defeated incumbent Sheldon Parsons, 1,578 to 1,290.
In the English separate Ward 6 race, incumbent Anita Labadie lapped the field, garnering 2,190 to 490 over Mike Genge.
In the English public Ward 6 race, Ruth Ann Dodman retained her seat with 5,399, while Shannon Sasseville defeated incumbent Dave Macko for the second spot, 2,944 to 2,689.
All other separate and public board positions were acclaimed.