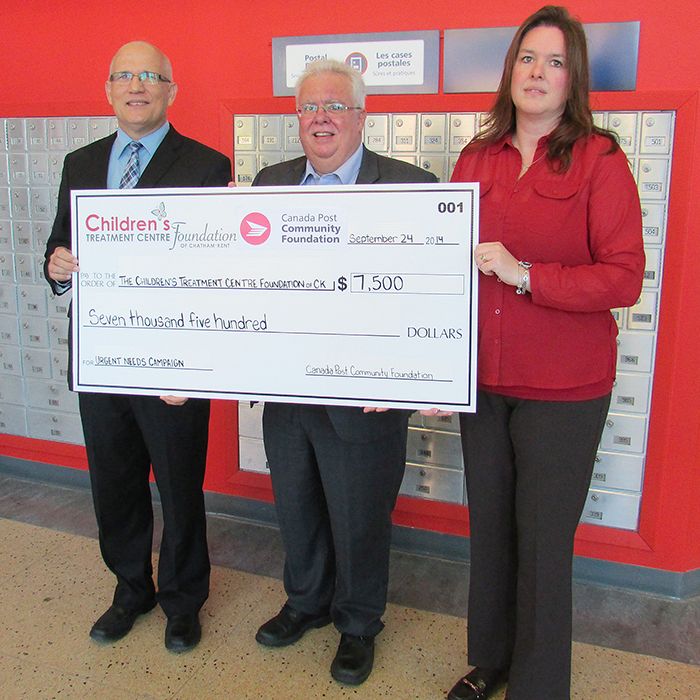 Three weeks into the second phase of its urgent needs program, the Children's Treatment Centre Foundation of Chatham-Kent has received a couple of large pats on the back.
On Wednesday morning, the Canada Post Community Fund shelled out $7,500 to the campaign.
The urgent needs program of the treatment centre's Kids Can't Wait initiative has set a phase 2 target of $100,000 to help purchase equipment and upgrade therapy programs, according to Art Stirling, the foundation's executive director. The centre's therapists determined what those needs are, he added.
The Rexall Foundation donated $5,000 to the program a couple of weeks ago, Stirling said.
In regards to the Canada Post donation, Stirling said this is a new partnership, and one that is much appreciated.
"It will go a long way to help make sure children with developmental disabilities continue to receive the treatments they need," he said.
The money is part of $1.3 million the community fund raised last year, according to Tad Wolanski, regional manager for Canada Post. He said 100 organizations were sought out to share in the funding, and the Children's Treatment Centre was one of them.
The treatment centre's phase 2 of the urgent needs campaign is targetting fundraising for its music therapy program, enhanced programs, its specialty autism treatment area, the therapy pool, and upgrades to therapy programs and the lobby.
Comments
comments