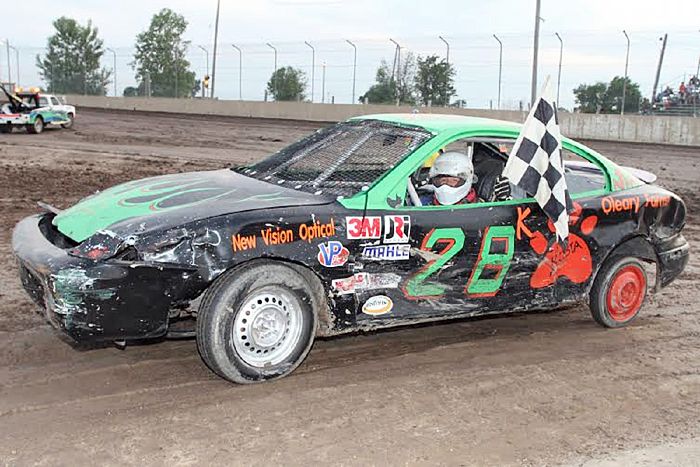 If you heard someone talking about a 12- or 13-year-old driver climbing behind the wheel and racing their peers, you'd probably think they were talking about a birthday party at a go-kart track, or a television show.
If that conversation happened in Chatham-Kent, however, there's a good chance they were talking about Jake Hooker or Tate O'Leary racing at South Buxton Raceway.
LEADWAVE Technologies from Chatham Voice on Vimeo.
O'Leary, 12, from Port Lambton, who competes in the Bombers division, and Hooker, 13, from Chatham, who races in the sport stock class, are Buxton's youngest competitors. Despite this, the two are fearlessly racing, and succeeding, against much older competition.
"I get nervous in the chute, but once I'm on the track it just comes natural," said Hooker, who took his first heat win in early July. "The best part about racing for me is competition and I like to go fast. "
"The feeling you get from being in control of a car is better than any amusement park ride," said O'Leary, who also plays football for the Chatham-Kent Cougar peewee team, which won a provincial title this summer.
O'Leary has already won two feature races at South Buxton this summer.
"It has been a cool honour to be the youngest driver to win at South Buxton Raceway in a car," said O'Leary.
"The drivers told me to enjoy your first win as long as you can, because you never know when you are going to get your next one," continued O'Leary, who dedicated his wins to his mom, Krista O'Leary, who passed away in 2012.
For Hooker, who started racing in go-karts, transitioning to a full-size car at South Buxton Raceway seemed natural, as he's been watching his dad, Kirk Hooker, race cars across Ontario his entire life.
"My dad has always told me you have to finish the race before you win the race," said the younger Hooker about what he's learned from his father. "Always protect your race car, which I'm not that good at yet, especially my front end. You need a good crew to win races, which I'm lucky to have."
South Buxton has other young drivers, including Nick Glassford, Dylan Wolters, and Tate's brother Caleb O'Leary, but for most parents, seeing their child drive, let alone race, is a terrifying proposition.
For Kirk Hooker and Vic O'Leary, the fathers of these two young drivers, watching their sons on the track is a huge source of pride.
"There is no greater feeling than watching and crewing for my son Jake," said Kirk Hooker, who has won numerous racing championships at Buxton and elsewhere in his career.
"It was an extremely proud day to see him take the lead on a nice pass and hold on after the restart to win," said Vic O'Leary about watching Tate's first feature win.
O'Leary, who has watched his sons race on their farm for years, is thankful to South Buxton for giving Tate and Caleb a place to move to the next level.
"It seems Tate has been driving since he was two, so now it's time to learn to race," said O'Leary. "I would like to thank South Buxton Raceway for the opportunity, for giving both my boys at a young age some place to race a car."
The decision to allow these young drivers behind the wheel wasn't without caution. For the Hookers, safety came first in their decision to put Jake into the sport stock division.
"There is always a concern of him getting hurt," said Kirk Hooker, "but my wife and I have made sure that we have purchased the best safety equipment possible. Safety has always been my first concern. For the first month we only allowed Jake to race around the back of the pack and now we feel comfortable with him racing where he feels comfortable."
With their rookie season at South Buxton well underway, the duo is getting more comfortable, as are their parents, and although they're too young to drive home, these young drivers won't let that stop them from chasing checkered flags at South Buxton.
"I say full throttle," said Tate O'Leary about his opportunity to win races.
Although they will have to wait a few years to drive outside the confines of South Buxton, the task for these young drivers is simple from here on out; buckle up, race, and improve until they take the checkered flag.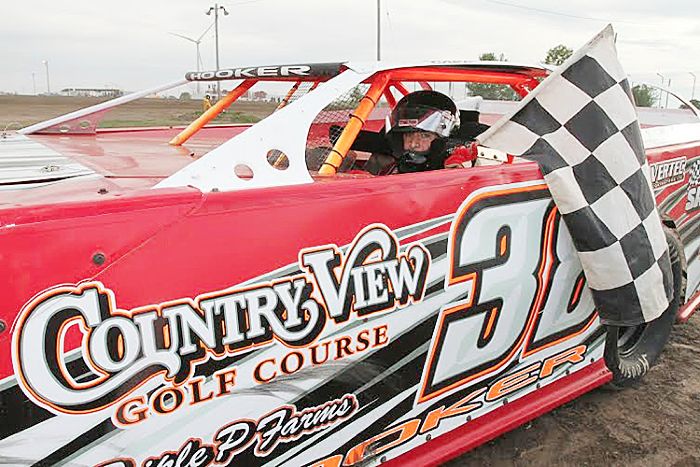 Comments
comments