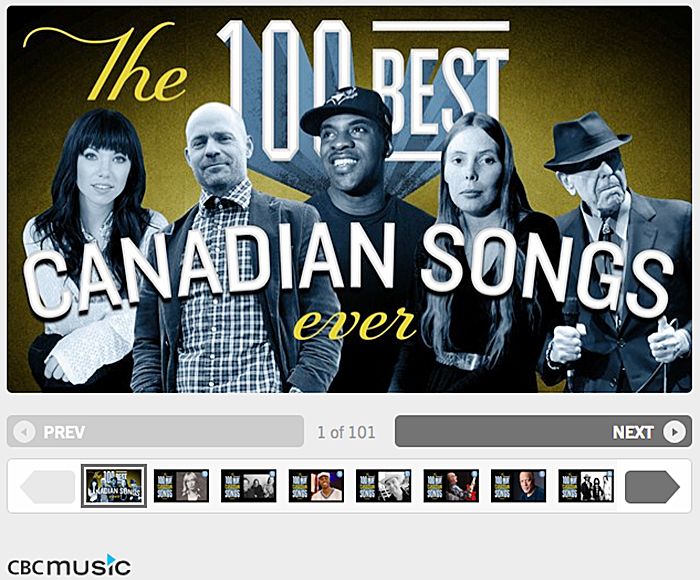 Want to push my buttons? It's really easy. It begins with a musical note.
Offer an opinion that one genre of music is better than what I like – classic rock. Or compile a list of all-time greats. These lists are so subjective and opinion driven that I cannot help but wade in, with my narrow-minded guns a' blazing.
The venerable, taxpayer-fueled CBC recently released a list of the top 100 Canadian songs of all time. I flipped through 100-51 and thought, "meh." Some songs should be higher, some lower, some just fine.
LEADWAVE Technologies from Chatham Voice on Vimeo.
Remember, I'm a classic rock fan. Yet I was happy to see Martha and the Muffins slip in at #52 with "Echo Beach." It's a fun tune. I love it.
There are so many great Canadian rock bands/singers. I figured the list would be overflowing with multiple songs from all of them. For some, yes, for most, no. And some didn't even make the list.
Where the heck is Pat Travers? His tune "Stevie," about a brother who is living life burning both ends of the candle, is a haunting ballad.
And Triumph is invisible, despite some great efforts in the late 1970s and '80s. "Lay it on the Line," "A World of Fantasy," "Just a Game" and others didn't merit a look by the CBC's tunage overlords. Bah!
April Wine? Not on the CBC grapevine.
Lighthouse? "Sunny Days" didn't shine for the top 100.
Ian Thomas' "Painted Ladies" weren't colourful enough.
"Where is this Love?" by the Payolas is a hard-hitting piece of writing. Yet it's invisible to the CBC.
The Trews' "Highway of Heroes," about how people line the highway to pay tribute to our fallen soldiers in Afghanistan, got stuck on the on ramp, apparently.
The Northern Pikes had some pretty solid tunes and lyrics penned in the 1980s and early 1990s. "She Ain't Pretty," or "Let's Pretend" could be on the list.
If Steppenwolf qualifies for the list because lead vocalist John Kay spent time in Canada growing up (he was born in Germany, and the band was formed in the U.S.), I wonder why Skid Row's "18 and Life" wasn't in the top 100. Frontman Sebastian Bach grew up in Peterborough, Ont. The song's lyrics are pretty deep for a hair-band tune.
And then there are the songs that make the list that should be way higher.
Speaking of Steppenwolf, "Born to be Wild" landed in the middle of the pack at 41. Are you kidding me? This is a generation-defining tune.
It should have been in the top 10. And it's not my favourite Steppenwolf tune. I happen to prefer "Magic Carpet Ride."
Tom Cochrane hit the list with "Life is a Highway," a pretty memorable tune, at No. 36. He could have been there with others, such as "Lunatic Fringe."
Stompin' Tom Connors, as big a Canadian music icon as there is, placed 35th with "Sudbury Saturday Night." Great song, one that should have been much higher.
Bachman Turner Overdrive, with Randy Bachman leading the way, had "Takin' Care of Business" land on the chart. But at No. 34, one can only wonder why it isn't higher.
Bruce Cockburn's "Lovers in a Dangerous Time," slid in at No. 16. It's a decent spot, but could be higher.
The lyric, "Kick at the darkness until it bleeds daylight," is a classic piece of writing. It's just eight words in a song, but to me says so much.
Bryan Adams landed at No. 12 with "Summer of '69." A decent spot. But other Adams songs such as "Take Me Back" and "Cuts Like a Knife" could easily be on the list.
Joni Mitchell deserved the multiple spots on the list she received, as she's a great songwriter. "Both Sides, Now" ranked at the top of the list. It's a great song, and could have a legitimate place on top.
But then there's Leonard Cohen's "Hallelujah," which placed at No. 11. It could have been No. 1, as it is truly chilling, and heavily covered by other artists, such as Jon Bon Jovi and k.d. Lang.
But I have to say Neil Young belongs on top. He placed second with "Helpless" and was scattered with other tunes in the top 50. Neil is a great musician and writer.
As you can tell, there's a lot about the CBC's top 100 list of greatest Canadian songs I don't like, and some that I do. And it moved me to want to discuss it.
And that is a huge reason why such lists are compiled in the first place – they make you think and debate.
Don't even get me started on Rolling Stone magazine's top 100 guitarists of all time. Now there is a joke of a list …