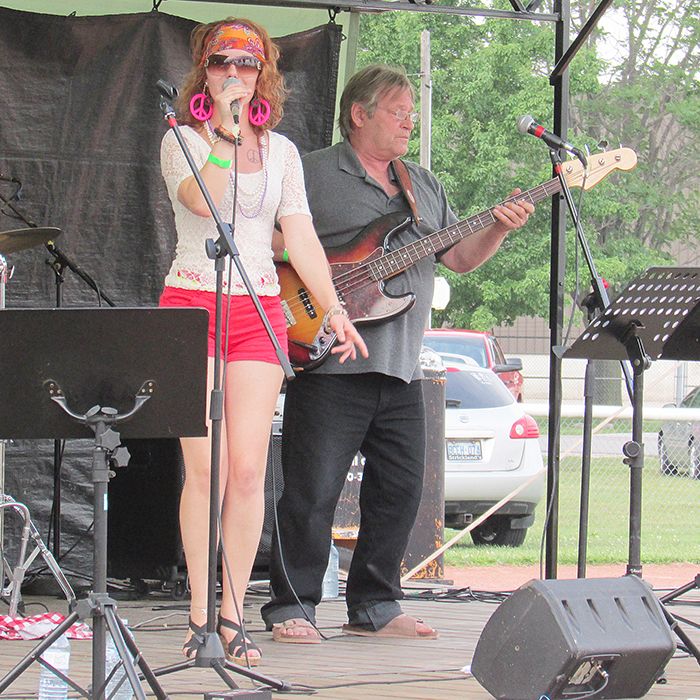 Peace, love, music and fundraising combined to make the first ever Dresden Kinstock a success on Saturday night.
Featuring music from the legendary Woodstock era, more than 700 people attended the Kinsmen Park event, which featured a combination of local and regional musical talent.
Chair Darren Wills said the event raised some $7,000, a portion of which will go toward the club's commitment of $50,000 to the Dresden Health Complex, while the rest will be used for various club projects.
LEADWAVE Technologies from Chatham Voice on Vimeo.
Wills said club members put a lot of work into the event but it was well worth it.
"We have great members who are always there when we have a project," he said.
Kinsmen partnered with Branch 113 of the Royal Canadian Legion to supply food for the concertgoers.
"Volunteers from the Legion were outstanding," Wills said.
The event had the support of a number of local sponsors including McKellar's Flowers, Tates Welding, Badder Funeral Homes, Hughson Automotive and Home Building Centre.
Wills said next year's event is in the planning stages with a July 11 date already set aside.
"Our Facebook page has been filled with comments about what a good time everyone had," Wills said.
Julie Shaw posted, "It was a lot of fun. Loved the music and visits with so many people we haven't seen for a while. Great night."
Marilyn Whitson posted, "Fun night. Cannot wait till next year."
Aaron Sisson wrote,  "Wow.  I had no idea how much Dresden rocked!!! Thanks so much to the musicians, volunteers, vendors, sponsors, lighting/sound and most importantly the wonderful people of Dresden who came out and supported the Kinstock Classic Rock Festival and made this an amazing night."
Comments
comments