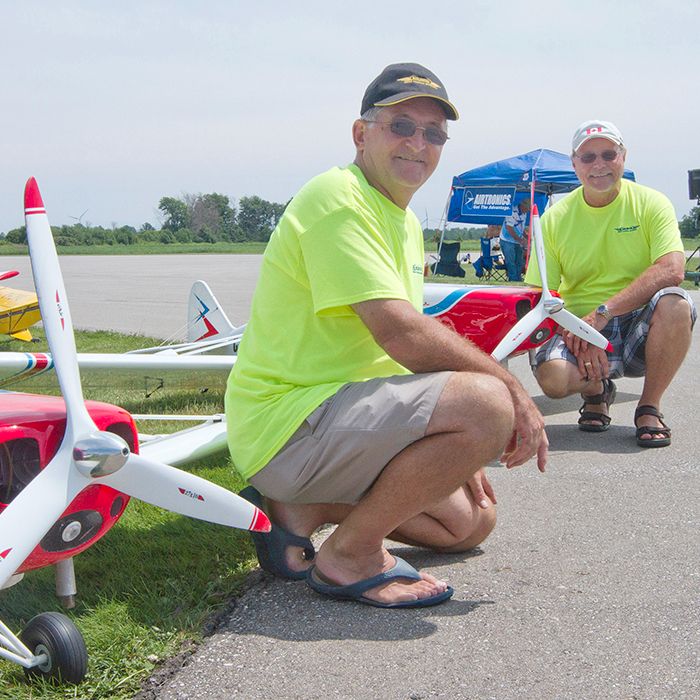 Karl Gross, left, and Dave Cummings, right, kneel in front of each of their Piper Pawnee model planes, which flew during the Chatham Warbirds and Classics show at the Chatham-Kent Municipal Airport on Saturday, July 20, 2013.
The Chatham Aeronauts will host their annual Warbirds and Classics over Chatham event July 19 and 20.
The radio-controlled model aircraft display takes place at the Chatham-Kent Municipal Airport, with flying underway from 9 a.m. to 5 p.m. each day.
Organizer Eric Larson said more than 60 R/C pilots will be on hand, coming from across Ontario, Michigan and the U.S. Midwest to take part.
Gates open each day at 10 a.m., and the cost of admission is $5 for adults. Children under 12 and veterans get in for free.
On Saturday, there will be an airshow that features scale military aircraft – from the First World War to present day – as well as scale civilian planes, including jets.
A special feature this year is a giant scale Sikorsky S-43 flying boat that weighs more than 110 pounds and has a wingspan of nearly 17 feet.
There will be food concessions, vendors and full-scale aircraft on display.