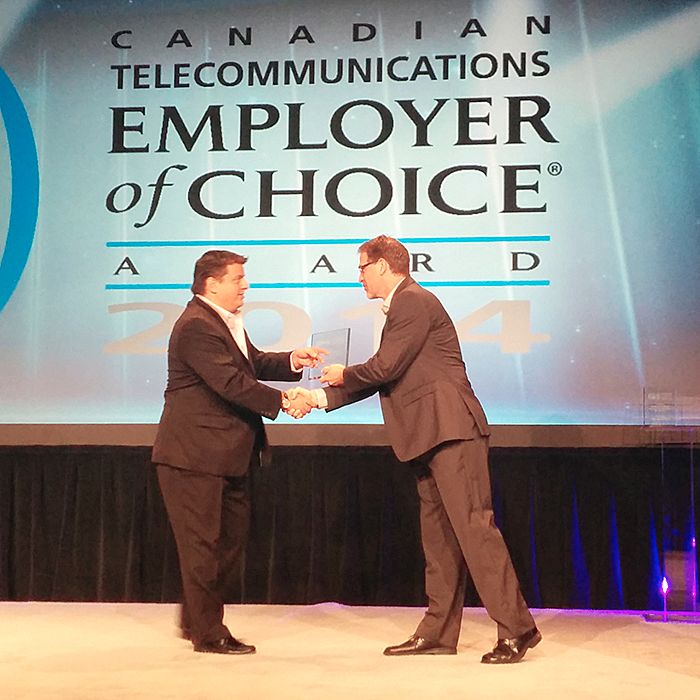 Chatham's TekSavvy Solutions Inc. has just been named recipient of Canada's 2014 Telecom Employer of Choice (EOC) Award, beating industry giants Rogers and Bell.
The award was given during the Canadian Telecom Summit in Toronto. The competition was conducted through the Contact Centre Employer of Choice's recognition program.
The award is a national program dedicated to identifying, recognizing and promoting the best employers in the Canadian telecommunications industry.
"We are happy to be one of the first ever winners of this year's Telecom EOC Award," said Marc Gaudrault, CEO of TekSavvy, in a release. "We pride ourselves on being 'different, but in a good way,' and our goal has been to carry this motto right through to our employees and our corporate culture."
LEADWAVE Technologies from Chatham Voice on Vimeo.
Tina Furlan, TekSavvy director of marketing and communications, said the award was based on extensive studies on workplace atmosphere, compensation and interviews with employees.
"It really demonstrates our strong team relationship we have at TekSavvy," she said. "We believe that having a strong corporate culture which values our employees is the right thing to do in a personal and business sense."
Furlan noted that TekSavvy has also been named best Internet service provider multiple times in surveys in Toronto and in Chatham-Kent.
Founded in 1998, TekSavvy serves tens of thousands of customers. It has more than 400 employees at its Chatham headquarters and another 50 at its Ottawa office.