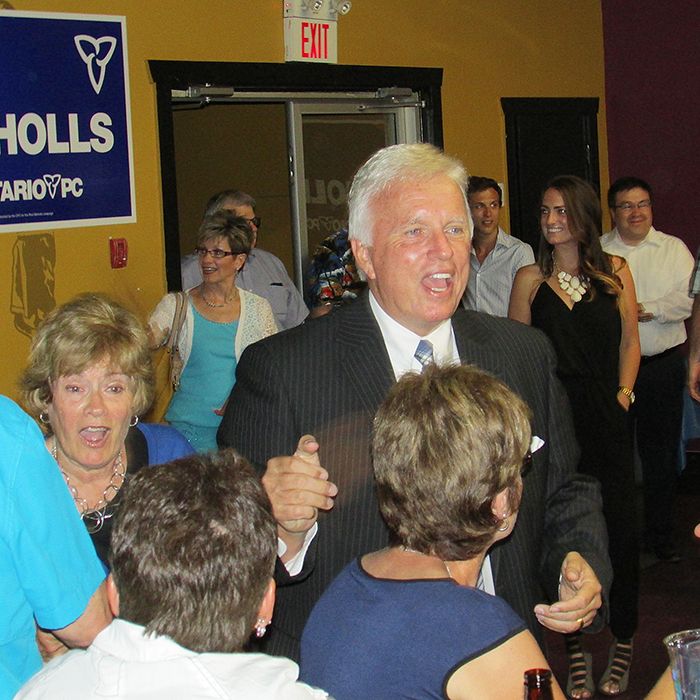 The provincial electoral landscape changed little in Chatham-Kent with the June 12 provincial election, as Rick Nicholls and Monte McNaughton, both Progressive Conservatives, held onto to their seats at Queen's Park.
But this time around, while they will sit again as members of the opposition, they face a Liberal majority government. Kathleen Wynne's party took 59 ridings, needing only 54 for a majority. In 2011, the Liberals captured 53 seats.
Nicholls proudly strolled into his campaign office shortly after 10 p.m. Thursday night, greeted by loud applause from a large crowd of supporters.
"It's an exciting night for Chatham-Kent Essex," he told the crowd, referring to his riding. "We did it again. It was a total team effort."
But in an election some political pundits called the Conservatives' to lose, too few Conservatives did what Nicholls, and McNaughton to the north in Lambton-Kent Middlesex, did – win their seats.
Nicholls stood by provincial PC leader Tim Hudak and his campaign to focus on jobs – claiming he had a plan to create a million jobs, while at the same time pledging to cut 100,000 civil service positions.
"Tim is still my leader. He has served us well," Nicholls said, about an hour before Hudak announced he'd step down as head of the provincial Conservatives. Nicholls blamed labour-sponsored attack ads for undercutting the provincial Conservative platform.
Nicholls defended the party plan to opt for a jobs-oriented campaign, rather than point at all the wrongdoings and scandals of the Liberals.
"Hindsight is 20/20. Our strategists felt we should tell people exactly what we'd do if elected," he said.
Nicholls added the reduction in provincial civil service jobs by 100,000 positions was misinterpreted by the attack ad sponsors.
"Those 100,000 jobs would be cuts, slashes as they called it. We were going to do it through attrition," he said.
Nicholls said his return to the opposition benches facing a majority government doesn't mean the needs of Chatham-Kent will be ignored.
"In the last two-and-a-half years, I've shown my ability to work along with a number of cabinet ministers," he said. "We still have hot issues here: the wind turbines and the municipal airport, and securing tenure for the Rondeau Cottagers' Association."
Provincially, he said the rising cost of energy must be reined in to lure industry back to Ontario.
"By Jan. 1, 2014, energy costs will have gone up 42%," Nicholls said of the price of electricity in the province under Liberal governments. "As the official opposition, we will continue to hold the Liberal government's feet to the fire."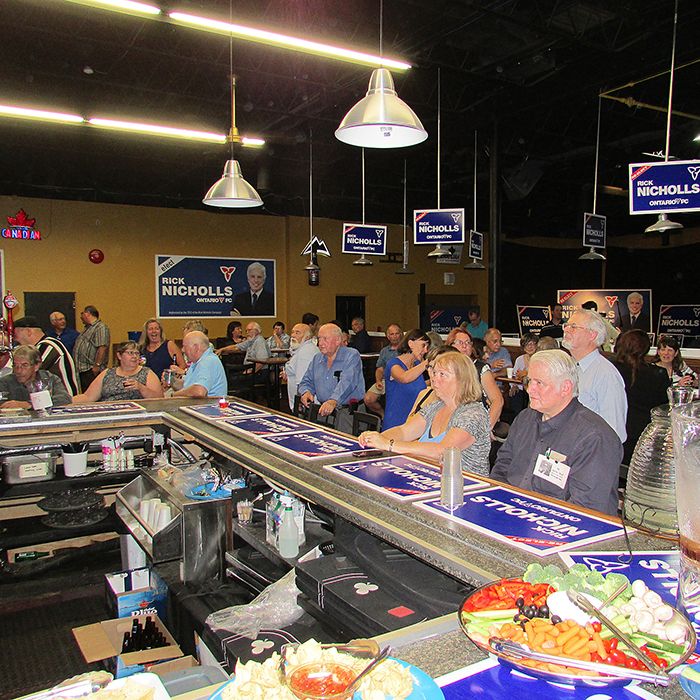 Comments
comments