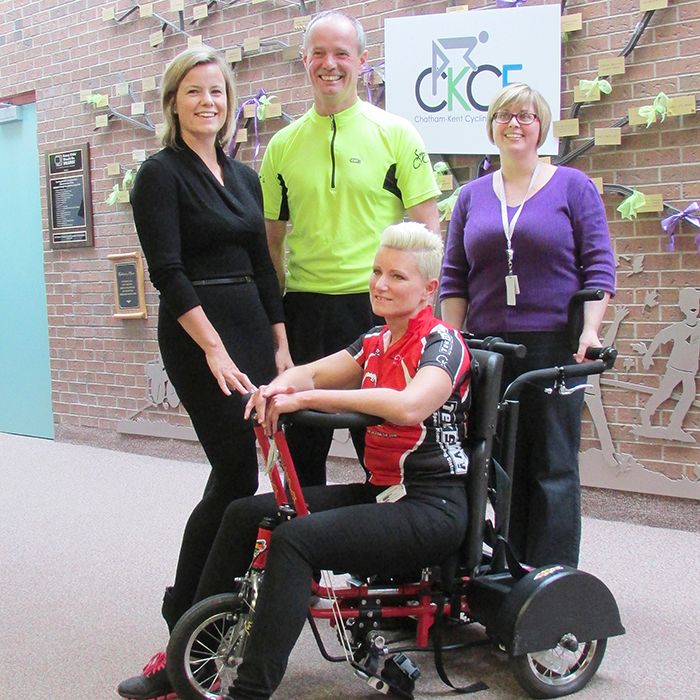 A group of local cycling enthusiasts is promoting pedal power and has organized the Chatham-Kent Cycling Festival (CKCF).
Put on by the Chatham-Kent Cycling Group, the festival will take place June 21 and will feature 100K, 50K and 8K rides. The start and finish points will be at the Chatham Memorial Arena.
The group held a press conference Thursday at the Children's Treatment Centre of Chatham-Kent.
Riverview Bingo Palace 02 from Chatham Voice on Vimeo.
Ann McKenzie, a communicative disorders assistant with the centre, is an avid cyclist and a member of the cycling group. She said the day is designed to deliver something to everyone.
"We offer the serious cyclists the 50K and 100K rides. But there's a wellness clinic too. There's also a bike rodeo and an 8K family ride," she said. "There's going to be a ride out there that day for everyone."
Dr. April Rietdyk, director of public health for the municipality, loves the idea of the festival. She hopes to see more local folks, especially families, outside and active.
"This made me think about when I got my first bike, and the day I learned to ride without my training wheels," she said. "But now, the vast majority of five year olds know how to work a computer tablet and a mouse, but don't know how to ride a bike."
She said getting our children more active begins with getting parents off the couch too.
"If children are around healthy, active adults, then they're much more inclined to be active," Rietdyk said.
Ann Robinson of the municipality's recreation department, agreed.
"It's important to get people active. Everybody needs that physical activity to get active and improve that quality of life," she said.
Proceeds from the festival will support the Children's Treatment Centre's "Freedom Riders" adaptive cycling program. Shauna Jackson, a therapist at the centre, said a 2008 grant allowed the centre to purchase nine of the adaptive bikes, which allow children with various physical challenges to ride. There are now 14 in the program.
"There's certainly the fun factor, range of motion, and strengthening," she said of the reasons to use the bikes with treatment centre clients.
These bikes range in price from $3,500 to $6,000, Jackson said. The "extremely adaptable" bikes are used by clients in schools from September to May, and are loaned to families in the summer.
Cycling festival sponsors include TekSavvy and Campbell Toyota, who are sponsoring the event and shirts respectively.
Tina Furlan, director of communications for TekSavvy, said the company likes to focus its charitable efforts on children's activities, and has developed internal programs to support health and wellness among its 500-plus local employees.
"This is the perfect event that merges our goals. We are excited to be part of it," she said.
McKenzie said the cycling group hopes to make the festival an annual event. The goal this year is to have 100-150 people take part, with some cyclists coming from outside Chatham-Kent, and to grow the event each year.
Comments
comments